Little League World Series Shows Baseball's Inner-City Problem Is Solvable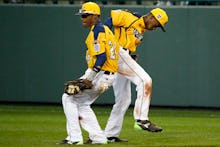 The chaos in Ferguson, Mo., has presented the American public with a powder keg of racial tension that feels outdated in the 21st century but is no less depressingly real. As arguments go back and forth over who was in the right, who is the victim and where lie the boundaries of responsibility, it is easy to lose sight of the positive stories that inspire and uplift.
Enter the Little League World Series, where not one but two urban-based teams with diverse makeups have taken the nation by storm. On Thursday night, a team from Chicago's South Side defeated another from Center City Philadelphia, to advance to Saturday's U.S. Championship game (3:30 p.m. ET, ABC) at Lamade Stadium in South Williamsport, Pa.
For one night, at least, baseball's much-ballyhooed inner-city problem seemed overstated.
Each team's success comes at a pivotal time for the national pastime in general. There has been no shortage of hand-wringing over the decline of African-American baseball players in the major leagues. After reaching a peak of 18.7% in 1981, African-American players made up only 8.3% of the players on Opening Day rosters in April. In the NFL, that number is closer to 66% and in the NBA it is more than 76%.
None of this is meant as an indictment of Major League Baseball, which last year installed a 17-member task force to look into the alarming trend. Plenty of factors come into play that affect the makeup of rosters in professional sports leagues. Though major league teams maintain multiple training facilities across Latin America, there has been a renewed effort to develop talent right here in the United States. The RBI program, or Reviving Baseball in Inner Cities, has more than 260,000 participants in the United States and Latin America, including girls' softball programs. Current MLB stars that participated in the RBI program as kids include CC Sabathia, Carl Crawford, Justin Upton and B.J. Upton, with another 200 RBI alums drafted since the program's inception.
Steve Bandura, an official with Philadelphia's Parks and Recreation Department, elaborated to the New York Times on the many misconceptions surrounding the trend:
It is not accurate, Bandura said, that African-Americans lack an interest in baseball, find it too slow and prefer basketball and football because they provide more ready access to scholarships and professional careers."Kids are all the same," said Bandura, who has coached Davis, Philadelphia's star pitcher, since she was 7. "If you give them something to do that they like, they're going to keep doing it. There just aren't enough quality, structured programs in our inner cities."Suburban children often begin playing at 5 years old, participate in 50 to 100 games a year on travel teams and train year-round, Bandura said; urban players often start at 10 or 12 and have little opportunity to travel or to train in the off-season. Currently, Bandura said, most urban youths have "zero chance" of competing with suburban players.In 1999, Little League started an urban initiative that it says has created 200 leagues in 90 cities and has given 52,000 children a chance to play baseball. Major League Baseball has also implemented a number of initiatives.
But grassroots programs can only do so much, particuarly at a time when baseball is having trouble capturing the attention of younger fans. (Consider the average viewer of last year's World Series was 54.4 years old, according to the Wall Street Journal, up from 49.9 in 2009.) 
Perhaps the highly visible success of inner-city teams can succeed where MLB's outreach initiatives have failed. After all, we all know the name Mo'ne Davis, the 13-year-old flamethrower from Philadelphia's Taney Youth Baseball Association who became the youngest ever Sports Illustrated cover subject on Tuesday. We've also been introduced to Josh Houston and company from Chicago's Jackie Robinson West Little League.
That damning 8.3% figure is far too low, but Major League Baseball is working hard to be more inclusive on the field. With the kids from Philadelphia and Chicago showing race — and gender, in the case of Davis — doesn't matter as much as we think. Maybe these kids can teach us all something after all.