The Best Thing About the 2014 VMAs: They Were All About the Women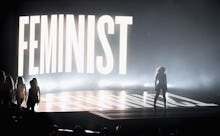 There's no denying it: This year's VMAs were all about the women. From the explosive show opener with Ariana Grande, Jessie J and Nicki Minaj, to a showstopping Beyoncé finale, the entire night had men looking like an afterthought. 
Get More: 2014 VMA, Artists.MTV, Music, Ariana Grande
Perhaps the cast members from Orange Is the New Black said it best when they took to the stage to present, quipping, "This year's VMAs are a lot like our prison show: There are a bunch of badass women all crammed in the same place trying to get one over on each other."  
And it's (mostly) true. The night's biggest performances all came from women (many of them with all female backup dancers): Taylor Swift, Iggy Azalea, Rita Ora, as well as the women mentioned previously. Meanwhile, the male performances were considerably less memorable (aside from a heartbreaker by Sam Smith). There was the ultra-popular and mega-forgettable 5 Seconds of Summer and an Usher performance dominated by a moment he shared with Nicki Minaj. Even Maroon 5's attempt to execute an arena-worthy vision outside the theater just didn't quite work.
Get More: 2014 VMA, Artists.MTV, Music, Taylor Swift
The men were also left out of performances where they could have very easily fit in. Jay Z could very well have joined Beyoncé when she got to "Drunk In Love," likewise Drake could have joined her for "Mine." Drake wasn't even there to pick up his award in the first place, leaving the acceptance speeches one man short. And in fact, Jay Z stayed to the sidelines with Blue Ivy on his knee, only taking the stage to present his wife with the Video Vanguard Award.
Aside from the performances, the night's big prizes went to the women as well. Miley Cyrus won for Video of the Year with "Wrecking Ball," Lorde won Best Rock Video for "Royals" (the first female artist to ever win in that category), Fifth Harmony won Artist to Watch, Grande won Best Pop Video, and of course, Beyoncé took home her Video Vanguard Award. All this, after a year in which Azalea made history by scoring the top two spots on the Billboard Hot 100 list, making her the first-ever woman to do so. (The only other artists to do it? The Beatles in 1964.)
The female domination of MTV's biggest night is, of course, in keeping with a pattern of female artists using the VMA stage to make a splash. Last year, Cyrus famously twerked her way into history; Britney Spears sang a snake-welding rendition of "I'm a Slave For You" that's become a pop icon; and Madonna set the tone back in 1984 at the first VMA show ever with her iconic performance of "Like a Virgin." 
This time around, as in those past performances, there were plenty of risque costumes and a generous dose of bumping, grinding and other moves some might critique as less than empowering. But whatever one makes of the fashion choices or choreography, one thing was clear: The stage was unquestionably dominated by female faces and voices. 
And if by the end of the night there were still lingering questions about who dominated the show, Beyoncé sent the message loud and clear during her performance, with a single powerful word emblazoned across the stage: "Feminist."