Did Mo'ne Davis Fall Victim to the 'Sports Illustrated' Jinx? A Sports Psychologist Explains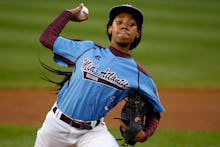 On Tuesday, Mo'ne Davis was featured on the cover of Sports Illustrated. A breakout star at the Little League World Series, Davis earned the honor after becoming the first girl in the tournament's 68-year history to throw a shutout, winning over fans with her confidence along the way.
After becoming the magazine's youngest cover subject, the 13-year-old from South Philadelphia went out against Nevada on Wednesday and lost some of her invincibility, allowing three runs and six hits over 2 1/3 innings. Davis' Taney Dragons lost to Chicago in their next game, abruptly ending their LLWS run.
Immediately, everyone wanted to bring up the SI cover jinx, a long-running theory that proposes that any player who makes the cover sees a decline in their performance, often immediately but sometimes in the longer term.
Of course, this is not entirely true. On the surface, it seems to be a cherry picking of when the jinx fits that ignores the majority of instances in which it doesn't happen. On a macro level, consider all the times that Michael Jordan, Kobe Bryant and many of the other greats have made the cover and continued to have illustrious careers. The jinx may exist, but it doesn't apply to everyone.
One great example of the selective memory and application of the curse is Tiger Woods, who was on his way to becoming the best golfer ever (and still might be) when in 2009, he appeared on the SI cover. Shortly after, details of personal issues appeared, and he hasn't won a major since. Some have pointed to this as the jinx at work, while ignoring all the covers he's been on prior to this incident.
Other times, it's just simply very easy to call jinx. Because Sports Illustrated is a weekly publication, they're constantly pegging covers to what's hot at the moment. During the NFL playoffs, teams that won the previous week will usually get a cover the week after. Now, consider when this happens after the conference championships. Depending on which team makes the cover, one of those teams will ultimately lose in the Super Bowl. If they win, this conversation doesn't happen. If they lose, it's a jinx!
For example, Mushin Muhammad of the Carolina Panthers appeared on the cover after the Panthers defeated the Philadelphia Eagles in 2004 to make the Super Bowl. This has been cited as an instance of the jinx at work because Muhammad and the Panthers lost to the New England Patriots in the Super Bowl.
Of course, there's also the simplest explanation: Some of these athletes make the cover after their most esteemed performance in their career. Mo'ne is a great example. She just became the first female to ever pitch a shutout at the LLWS. So, how exactly could she have topped that? Unless she went onto throw a no-hitter or a perfect game in her next outing after the SI cover, there was no way to go but down. Hence, it's easy to explain it by some sort of hoodoo.
But is there possibly a psychological factor to all of this that impacts athletes, since we've gotten to a point where athletes are surely aware of the SI jinx talk? For this, we asked Michael Lardon, a sports psychiatrist who has worked with Olympic athletes and PGA golfers.
"Let's say we have a young athlete — Rory McIlroy for example — and he's coming up. He's raw and new, and he has everything to gain as an athlete. They become immersed in playing the sport and aren't worried about anything else. Everything is aggressive," Lardon said. "Then they make the cover, and the whole psychology changes. This doesn't happen to every athlete but it happens to some of them. They might start thinking, 'Am I really this good? Maybe I'm not this good.' The entire psychology goes from aggressive to a protective and very defensive mode."
While Lardon believes there is a psychological effect of being on the SI cover, he agrees with the notion that we tend to pick and choose: "Statistically, you're picking things. If we statistically went through all the covers, I think you'll find the jinx to be more exaggerated than it is. At the end of the day, there's a perception of it existing because we're paying more attention to it."
But Lardon admits the extra publicity can get to athletes.
"Anything that separates you from doing what you do, that breaks up the routine, Lardon said. "Consider yourself as a writer. If suddenly you were to win all these awards, you might be a bit stiffer with your writing. You would think that everything is watching you. Suddenly, you're under the microscope. It changes things."
So while acknowledging that being on the cover of Sports Illustrated may in fact impact an athlete's approach and their mental state, the jinx still does feel like a self-fulfilling prophecy more than anything else. Still, perhaps it's more important to look at who exactly is falling for the jinx, and whether it tells us something about how they deal with pressure as an athlete, than to point to this cover as some all-encompassing threat to any athlete that is awarded for their excellence.