Austin Is Doing Something Huge for the Homeless That Every City Can Follow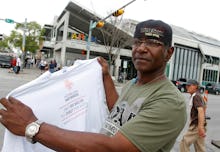 The news: Advocates for the homeless in Austin, Tex., are building homes for the needy that take just six hours to assemble.
Led by nonprofit Mobile Loaves & Fishes, the group is constructing a model 27-acre town called the Community First! Village, which will cost around $7 million and ultimately hold up to 240 people. 
KEYE TV reports on the project:
According to Mobile Loaves & Fishes, the development will include community space, a garden, a workshop, medical facilities, an outdoor theater, wireless Internet, access to public transportation and microhomes as an alternative to living on the street. In addition to the microhomes, fully equipped fifth-wheel RVs and canvas-walled cottages will help house additional members of the new community. The village also will have chicken, bee and aquaponics operations to help the complex remain self-sufficient.
Mobile Loaves & Fishes claims an 87% success rate moving homeless people into housing. The microhomes, which are about 144-180 square feet, have electricity and share amenities and essentials like bathrooms, kitchens and laundry rooms with the rest of the community. Here's a timelapse of how the structures, which are advertised at $20,000 each, can be put up in just six hours:
Project director of development Donna Emery told KEYE TV that the residents will be responsible for paying their own rent, which will be subsidized to as little as $90 a month for some needy occupants.
It'll save money, too: At a wholesale cost of $7 million, the development is expected to save Austin around $10 million in medical costs alone. That makes sense, given that previous studies have repeatedly found providing the homeless with resources like food, shelter and medical care is much cheaper than leaving them without support, where they are likely to end up in emergency rooms or the criminal justice system.
Image Credit: AP
A University of North Carolina Charlotte report found that the $6 million Moore Place development in Raleigh, North Carolina, saved more than $1.8 million its first year in reduced medical costs. Altogether, the 85 tenants spent about 84 fewer days in jail, with a 72% drop in arrests. The UNCC study also claimed the average homeless person in the area generated nearly $40,000 in expenses, whereas housing them sustainably would cost just $14,000 in rent per year.
Another project in Colorado reopened the Fort Lyon Correctional Facility, closed in 2011 due to budget cuts, as a homeless shelter for some 200 people at a cost of just $3.9 million. There too the project was expected to result in significant savings for the state's taxpayers.
Why you should care: The 0.47% of the federal budget allocated to welfare spending for the poor in 2012 far outstrips the total amount spent fighting homelessness specifically, even though programs like Moore Place and Fort Lyon have demonstrated they generate significant savings. What's more, they give dignity and self-sufficiency to the homeless, who all too often are completely ignored — except when they're being driven away by harsh laws that criminalize homelessness or spikes embedded into the ground to prevent loitering.
Community First! Village will begin admitting residents around six months from now, at which point the project can begin to prove that investing in the homeless isn't a lost cause. Other cities should follow suit.
(Note: This story's headline image is from a 2012 controversy in which the SXSW Festival employed homeless people to designate Wi-Fi hotspots for festival-goers.)