Heartwarming Video Demonstrates Exactly How Parents Should React to Their Child Coming Out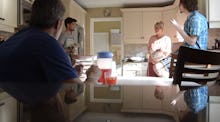 Almost everyone in the LGBT community has a "coming out" story, even if that "coming out" is from a transparent closet. But rarely can someone say his coming out was a joint effort, which is what makes the experience of Luke and Adam Monastero, 21-year-old fraternal twins from Canada, so interesting.
The twins' delightful viral video, which was recorded in secret, features the pair coming out together to their parents, neither of whom appear upset or really that shocked. It's a perfect example of how parents should react to their child (or children) coming out as LGBT.
The Monastero parents said they always had "an idea" that Luke was gay, but they had no idea about their other son. Adam told his parents that he tried "very hard to be straight," but just couldn't live a life that was disingenuous. His mother responds, in kind, "You guys have your own life to live."
Both parents ask basic questions ("Are you sure?" and "Have you ever had a girlfriend?"), but without judgement. Both parents appear content, and even somewhat relieved, by their sons' self-realization. 
The twins, on the other hand, are completely elated once the event is over. "We're officially out of the closet! I'm a free man! I feel alive!" Luke exclaims to the camera. Adam reflects that the process of coming out was both cathartic and clarifying: "People don't really care [if you're gay], and your parents will love you no matter what."
The video stands in sharp contrast to a heartbreaking clip released last week by Daniel Pierce, who faced shocking verbal and physical abuse when he came out to his family. Thankfully, Pierce's story may have a happy ending after all, thanks to supporters around the Internet who so far have donated close to $100,000 to Pierce through a GoFundMe page set up by his boyfriend.