Everything You Need to Know About Kei Nishikori, the First Asian Man to Reach a Grand Slam Final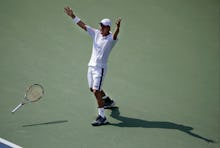 Kei Nishikori's charmed run through the U.S. Open continued Saturday afternoon with his biggest shocker yet: a 6-4, 1-6, 7-6(4), 6-3 upset of top-seeded Novak Djokovic to advance to Monday's final (5 p.m. ET, CBS). 
Nishikori, the No. 10 seed, became the first man from Asia reach the final at any of the four Grand Slam tournaments before an electric crowd at Arthur Ashe Stadium. He will face Croatia's Marin Cilic, who stunned Roger Federer in Saturday's second semifinal. Here's everything you need to know about the breakout star of this year's U.S. Open.
1. This isn't really a surprise.
The 24-year-old Nishikori is not an overnight sensation. He was the ATP Newcomer of the Year in 2008 and has long been counted with Grigor Dimitrov, Ernests Gulbis and Milos Raonic among the tour's next generation of stars. He's enjoyed a career season since pairing with new coach Michael Chang in January, winning two titles and becoming the first Japanese player to crack the top 10. But injuries and inconsistency have kept him from making a signature run at a Grand Slam during a period when the sport's Big Four have dominated the business end of majors. (Incredibly, Monday will mark the first major final since the 2005 Australian Open to not feature at least one of Federer, Djokovic, Rafael Nadal or Andy Murray.)
Image Credit: Getty
2. Except it really is.
Even ahead of this year's U.S. Open, Nishikori's participation was in doubt after undergoing surgery three weeks before the tournament to remove a cyst from his right foot. ("I didn't even know if I should come to New York," he recalled Saturday.) One oddsmaker listed him as a 280-to-1 underdog. Nishikori spent more than eight-and-a-half hours on the court over his previous two matches — including a Round of 16 marathon against Milos Raonic that ended at 2:26 a.m. — but he looked fresher than Djokovic on Saturday despite sweltering on-court temperatures that exceeded 95 degrees. No doubt Nishikori's experience training in Bradenton, Fla. — where he's practiced since arriving in America at 14 years old — came in handy against Djokovic, who has traditionally struggled in extreme conditions.
Image Credit: Getty
3. Nishikori is making history with every win.
After opening the tournament with routine victories over Wayne Odesnik, Pablo Andujar and Leonardo Mayer, Nishikori defeated the No. 5 seed (Raonic) and the No. 3 seed (Australian Open champ Stan Wawrinka) to become the first Japanese semifinalist at the U.S. Open since Ichiya Kumagae in 1918.
Then came Saturday's seismic upset of Djokovic, the reigning Wimbledon champion who was appearing in his eighth consecutive U.S. Open semifinal. "This is definitely huge for Japan," a disappointed Djokovic said afterward. "It's a big country, over 100 million people. This can definitely be a great encouragement for tennis in that country."
4. He's a massive star in Japan.
Nishikori is the ninth-highest paid tennis player in the world, according to Forbes. He earned $9 million in endorsements over the past year, thanks to deals with Uniqlo, Wilson, Tag Heuer, Weider Supplements and others. A series of spots for Nissin ramen alongside Shuzo Matzuoka, a Japanese tennis pro from the '60s, is particularly amusing.
Though he's lived full-time in Florida since he was a teenager, Nishikori's improbable run has been front-page news throughout the past week back home.
"I hope a lot of people are watching, I know it's a tough time," Nishikori said. "But I got like 20 messages already, even if it's 4 a.m. Very happy to make another history."
As it turns out, at least in Nishikori's hometown of Matsue, plenty of folks were watching.
5. He's a slight favorite in the final.
Nishikori was an outsider when the tournament began, but he's been playing with something special over the past fortnight. The surge has been reminiscent of Wawrinka's surprise run to the Australian Open title in January — or, perhaps more pertinently, Chang's inspired French Open title charge in 1989. Though Nishikori grew up idolizing Federer and said he'd have no problem going up against the 17-time major champion, there's no question he's better off facing a fellow Grand Slam final debutant in Cilic. The oddsmakers, who have made him a slight favorite in Monday's championship match, seem to agree.