Apple Just Revolutionized the World in a Way That Would Make Steve Jobs Proud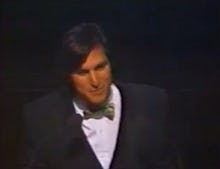 "It's more sophisticated, yet less complicated. It's more powerful, yet less cumbersome. It can store vast amounts of yesterday, or tell you what's in store for tomorrow."
That description could easily describe the new Apple Watch unveiled at Tuesday's big Apple extravaganza at a very special place: the Flint Center, near Apple's headquarters in Cupertino, Calif.
Back in 1984, Jobs heralded Apple's groundbreaking personal computer as an "industry milestone product," one due to become the most important "desktop appliance" for tens of millions of people. 
He wasn't wrong. As Mashable reports, Macintosh computers went on to cement themselves into American life. Fourteen years later, in 1998, Jobs took the stage at the Flint Center again to introduce the flashy colorful iMac, another product that would capture the public's imagination. 
Apple hadn't returned to the Flint Center to unveil any more products since then ... until Monday. As Mashable notes, the company usually introduces its new products at the Yerba Buena Center in San Francisco. But the company chose the historic site of the 1984 Macintosh launch for the Apple Watch, and we have a feeling there's a reason.
With the new Apple Watch, the company is poised to completely revolutionize the consumer technology market once again. The tech world has been obsessing over smartwatches for several years now, but no one product has charmed the public. As Mic reports, "Apple established its iPhone as the gold standard for smartphones and its iPad the coveted name in tablets. With the Apple Watch, Apple is poised to steal the show from the Samsung Gear S, the Motorola 360, Pebble and Android Wear."
And it could do it from the same stage that launched Apple 30 years ago. Somewhere, we bet Steve Jobs is smiling.