One Surefire Sign the Apple Watch Is Going To Succeed: The Fashion World's On Board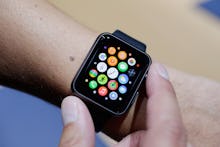 One of the biggest problems with wearable technology, the tech world has found, is that you need to convince people to actually wear the stuff. And for that to happen, it needs to be attractive.
So the fashion world had its eyes peeled when Apple unveiled its long-awaited Watch on Tuesday. Would the smart wrist device actually look cool? Chic, even? 
The answer is a resounding ... maybe. Apple shrewdly invited a gang of fashion editors to Tuesday's extravaganza in Cupertino, Calif., a move that Refinery29's Kelly Boudet told Reuters was clearly a "nod to the fashion crowd." And plenty of editors responded in kind. the Telegraph's Lisa Armstong noted that even if the Apple Watch didn't have all the cool techy features, "It would be a lovely object." Fashionista praised the accessory as "really, really good."
Among everyone's favorite feature: the multiple, customizable looks. There are six different faces, 18 different straps and three different "collections": the basic watch in stainless steel, the modern Apple Sport rendered in aluminum and the stylish Apple Edition finished with 18-karat yellow or rose gold. 
With all those choices, Apple clearly hedged its fashion bets. "While the red and gold watch is a clear attempt to appeal to a fashion-loving crowd, I much prefer the simple white design. (The sporty silhouette embraces normcore, no?)," Sarah Leon of W magazine told Mic via email. "It reminds me of a vintage iPod."
Julia Rubin of Racked agreed, telling Mic in an email, "The high-end gold and red version is so nice, particularly because of the detached straps. It looks like a real (old!) piece that you'd actually want to wear even if it wasn't, you know, smart."
Even the basic stainless-steel model could find fashion fans, particularly those with a more retro bent. "The rubber Sport edition is cheesy, but the basic model with stainless steel links rules — it's like the '80s Casios you troll eBay for," Rubin noted.
Images Credit: Apple
But not every fashion expert sees the value of a sportier, less traditional fashion aesthetic. "It's not pretty," Roseanne Morrison, fashion director for consulting firm The Doneger Group, told Reuters. "It's very future techno as opposed to feminine sexy." Eric Wilson of InStyle told Reuters he found it to be "a very masculine watch."
And plenty of industry insiders quipped on Twitter that they were perfectly happy to keep their high-end timepieces.  
Ultimately, no matter how many gizmos and gadgets Apple can stuff in to a wristwatch, its success among the non-tech crowd will boil down to style. Despite approving of the various aesthetics, Leon told Mic, "You won't catch me wearing either for a long time — until it's a necessity."