20 Tweets Destroying Vogue's Claim That White People Popularized "Big Booties"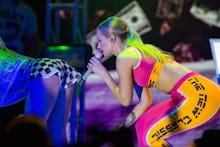 Glossy magazines apparently have just discovered black butts.
In a display of cultural naiveté as well as an ill-advised attempt to remain relevant for a new generation of readers, Vogue published an article Tuesday evening officially proclaiming the "era of the big booty."
Unfortunately, this couldn't be further from the truth. For decades, notable black women have openly and boldly celebrated their curves, only to be relegated to the background, mere afterthoughts in discussions about body-shaming and even twerking.
Betraying their ongoing ignorance of this historical context, the Vogue article cited a white rapper and a light-skinned, mainstream Latina as examples of "trailblazing" butt ambassadors — tying their declaration to Iggy Azalea and Jennifer Lopez's upcoming collaboration on the song "Booty."
Image Credit: Vogue
The cultural contributions and bodily features of black people — including skin tones, lips, thighs and hair — have been mocked and ridiculed for years. And yet tanning salons, collagen injections, close-cropped haircuts and braids somehow become fashion trends for white people. In spite of all that, Vogue continued an unfortunate pattern of cultural appropriation by crediting women who aren't black for promoting a celebration and appreciation for a big booty.
"As we await the premiere of Jennifer Lopez and Iggy Azalea's new music video, it would appear that the big booty has officially become ubiquitous," Patricia Garcia wrote for Vogue.  "In music videos, in Instagram photos, and on today's most popular celebrities, the measure of sex appeal is inextricably linked to the prominence of a woman's behind."
Garcia also claimed that it was "exactly the opposite" in years prior, as a "large butt was not something one aspired to, rather something one tried to tame in countless exercise classes." 
Social media quickly responded. Many black people on Twitter, especially women, took the magazine to task for what they see as an unfortunate trend reinforced in the discussion — one where black cultural contributions are credited to whites and others due to ignorance, willful or inadvertent.  
In their quest to reshape the conversation, social media users coined the hashtag #VogueArticles, using a mixture of humorous sarcasm and critical examination to highlight just how ubiquitous cultural appropriation has become in mainstream conversations.
As the #VogueArticles tweets show, the "booty" is not making a comeback. It's been around for years.
This tweet from actress and webseries director Reagan Gomez drives the main point home.