Watch Jennifer Lawrence Kick Ass in the New 'Hunger Games: Mockingjay' Trailer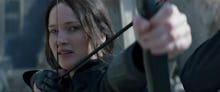 Fanboys and girls, rejoice! We finally have a full look at the next cinematic chapter of the Hunger Games story. 
After months of beautiful but vague teasers, stunning conceptual posters and a preliminary trailer that didn't really show us all that much, Lionsgate has dropped a full trailer for The Hunger Games: Mockingjay Part 1. The spot gives us a more detailed look at Katniss and Gale's participation in the rebellion, Julianne Moore as District 13's mysterious President Coin and Peeta's brainwashing by the Capitol.
Mockingjay Part 1 is easily one of the most anticipated movies of the fall — and as Mic's Elena Sheppard writes, "if it follows in its predecessors' footsteps, it will make close to half a billion dollars." That's obviously the goal, as the film is first following in the footsteps of other young adult blockbusters — namely, the Harry Potter series — by splitting up its final chapter into two movies. This two-part finale also marks one of the final film roles of the late Philip Seymour Hoffman.
The Hunger Games Mockingjay Part 1 will hit theaters November 21st. The only remaining question is: where will Mockingjay Part 1 end?