Vikings Fan Mocks Adrian Peterson Child Abuse Claims With Absurd Costume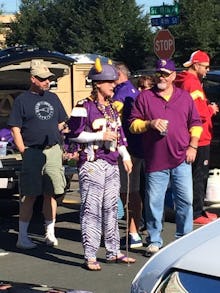 The NFL's nightmare week continued Friday when Vikings star running back Adrian Peterson was indicted on charges of negligent injury to his 4-year-old son. According to reports, Peterson was punishing his kid with a tree branch and ended up inflicting severe bruises and injuries on the child.
The tree branch, better referred to as a "switch," was a huge part of the detailed report that came out about the incident, and so, of course, a tailgating Vikings fan showed up at the game yesterday in a Peterson jersey, Zubaz pants and a tree branch.
It's unclear whether this fan was mocking the situation, condemning Peterson or showing support for the team's star running back. Regardless, child abuse is very obviously not something to joke about, let alone to be an inspiration for a tailgating costume. This comes on the heels of Thursday's game in Baltimore, where a large group of fans — some of them women — wore Ray Rice jerseys and expressed support for the embattled Ravens running back.
Peterson turned himself in over the weekend and has been booked and released. According to the latest reports, he's expected to practice with the team and play on Sunday. The NFL continues to deal with the fallout of the Rice situation. They've launched their own independent investigation into their own investigation (Yes, it's as baffling as it sounds.), and Rice is reportedly appealing his indefinite suspension this week. On Monday afternoon, the six-time Pro Bowler released the following statement:
While many people are calling for commissioner Roger Goodell's dismissal, Dallas Cowboys owner Jerry Jones came out yesterday and said Goodell has 100% support of the owners, which does not comes as a surprise as Goodell has helped push revenues for the league to new heights since taking over. At the end of the day, the owners are all about the business side of things, and as cruel as it sounds, they will back their commissioner because he's delivering bottom-line results.
Fans who are waiting for the NFL to install new leadership at the top because of how badly they've handled the Rice incident shouldn't hold their breath. Even if the investigation yields any findings, it's unlikely Goodell will leave his role now that the owners are publicly backing him.
In the end, the Minnesota fan's poor costume choice is just the latest reminder that no one's getting anything right in sports these days.