7 Fall Concert Tours With Better Openers than Headliners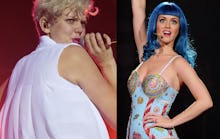 Fall is upon us, and, with it, the end of summer festival season. Now there's a new crop of indoor club and stadium show headliners to blow your paycheck on. But festivals do young artists a favor — those three-day hundred-band whoppers that corner the market all summer offer mid-level and rising bands the chance to make an impression on a lot of people. That's a chance they don't normally get.
This fall, those same amazing mid-levelers are hitting the circuit again, but since they can't afford headlining tours they end up opening for more popular (and often worse) acts. These are the seven fall tours with better openers than headliners. 
1. Betty Who (opening for Katy Perry)
Pretty much everybody is better than Perry, but 22-year-old Australian transplant Who is better than Perry in a deep, ferocious, John-Hughes-movie sort of way (just watch the video). She rose to fame after a proposal video set to her song "Somebody Loves You" went viral. Soon after, she signed with RCA and has been building steady momentum ever since. This fall, her first full-length drops. When it does, she might well become a bigger draw than Perry.
On tour: Nov. 7 to Dec. 13 (but only if you live in Australia)
2. St. Vincent (opening for the Black Keys)
You may have missed this, but the Black Keys released their eighth (!) studio album this summer, and it's just as uninventive as their first seven. St. Vincent's Annie Clark, on the other hand, spent 2014 promoting her near-intergalactic fourth album and rocking the bile out of Pitchfork Festival. But musical partner David Byrne recently forecasted that an amazing musician like her who hasn't achieved superstardom in the Spotify era will soon have "to find employment elsewhere or change what they do to make more money." This is a concertgoer's chance to help. Go see St. V. and run in the other direction during Black Keys.
On tour: Dec. 4 to Dec. 21
3. Hop Along (opening for mewithoutYou)
There isn't so much something wrong with arty post-hardcore quintet mewithoutYou as there is everything right with Philly's Hop Along — except, of course, that they haven't released an album since their gorgeous/painful/perfect 2012 debut Get Disowned. No matter — singer Frances Quinlan and Co. bring the noise live, and they only tour once in a blue moon. Go to this show, then drive a state over and go to it again the next day.
On tour: Oct. 3 to Oct. 18
4. Ratking (opening for Run the Jewels)
In the same vein as the Hop Along/mewithoutYou tour is the Ratking/Run the Jewels tour. El-P and Killer Mike's 2013 debut was really, very good. But if we're talking live shows, it doesn't get any more vicious than Harlem hip-hop trio Ratking, whose yappy frontman Wiki is known to bash himself in the forehead with his microphone until he bleeds. Pretty metal.
On tour: Oct. 31 to Nov. 29
5. MisterWives (opening for Twenty One Pilots and Bleachers)
Twenty One Pilots is a band that mixes EDM, screamo and rap, which is just as rough as it sounds. The upside to this is that you can get in to see their openers MisterWives — featuring New York singer Mandy Lee of the beyond-belief pipes (see 3:41 above) — for relatively cheap.
On tour: through Oct. 19
6. Against Me! (opening for Gaslight Anthem)
Once our foremost Springsteen-revivalists, Gaslight Anthem's newest record Get Hurt is at its best a caricature of mid-aughts Gaslight, and at its worst like something out of a Transformers trailer. Against Me! on the other hand, are touring in support of Transgender Dysphoria Blues — far and away their best record in 10 years, and their first since singer Laura Jane Grace came out as transgender in 2012. It's a poignant, powerful record — one that begs to be heard live.
On tour: through Oct. 16
7. Machine Gun Kelly (opening for Limp Bizkit)
Honestly, this has little to do with Machine Gun Kelly. He could just sit in a chair and drink beers on stage during these shows, and he'd be better than Limp Bizkit. He could form a supergroup with Rebecca Black, Chad Kroeger, Scott Stapp and the dudes from Phish, and they'd still be better than the Biz. It's a scientific fact.
On tour: through Oct. 12