6 Web Series That Show How Good TV Could Be With More Women Behind the Camera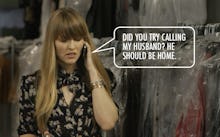 Young women, traditionally underrepresented in big studios, are taking advantage of the rapid growth in online video to flip the script on Hollywood.
These relative newcomers are producing web series that defy traditional gender roles and better represent our diversity as an audience. Their shows are getting increasingly popular, racking up millions of views and starting to win awards.
"We didn't want to make something that's gender-specific," Alexandra Roxo, the co-creator of one of these series, Be Here Nowish, told Mic. "People connect with the humor of balancing two sides of life, especially in our generation."
Most shows on TV still cast women in stereotypical gender roles. Female characters are often sexualized and assigned less powerful occupations than their male counterparts, according to a 2013 study by the Geena Davis Institute. That same year, female creators of cable and network shows were underrepresented by a 2-to-1 margin.
But on the web, this group of pioneering female artists is breaking the rules or ignoring them altogether. Their series showcase a dynamic batch of characters that are jaded, unemployed, naive or insecure, but also resilient, open-minded, educated and brave. Most importantly, they better reflect our generation's spectrum of identity and experience.
These are the shows that are changing the game:
1. 'High Maintenance' by Katja Blichfeld
High Maintenance, an acclaimed web series by husband-and-wife duo Katja Blichfeld and Ben Sinclair, casts Blichfeld as Becky, who has a high-powered career in fashion, a child and a husband who is an Emmy-award winning writer. While she's at work dealing with needy fashion clients, he takes their son to school, struggles to find inspiration to write and wears his wife's clothing. The power exchange here — a successful, handsome man channeling his breadwinner, successful wife — is not one we often get to see on TV.
"We tend to reflect our truth and our reality and what's around us. And our reality is we know a lot of very strong women who say they might 'wear the pants' in the relationships," Blichfeld told Mic. "Ben and I are attracted to other people who don't necessarily conform to gender norms. I was the breadwinner for a while in our relationship, and now that's starting to even out and change. It's always fluid." 
2. 'F to 7th' by Ingrid Jungermann
In F to 7th, Ingrid Jungermann created, wrote, directed and cast herself as a self-described "homoneurotic," a term that plays on the often overeroticized portrayal of LGBT women's private lives by mainstream media. Through the series, Ingrid questions her own assumptions about her sexuality, obsessing over the definition of femininity, dating men to double-verify her gayness and even taking a "gay brain test" in an attempt to give her identity a scientific foundation.
3. 'Uninspired' by Becky Yamamoto
We usually see men make the romantic gestures and surprise proposals, but Uninspired flips the roles.
On the day she's been laid off, Sarah comes home to find her boyfriend asleep on the couch with a video game console in his grip. Her struggle to cope with adulthood (and his) as all her friends marry and have children drives her to propose. When her best friend tries to stop her, she calls her an anti-feminist, then goes ahead and pops the question.
4. 'Transparent' by Jill Soloway
Orange Is the New Black's Laverne Cox has made TV history in a big way, but strong trans and genderqueer characters are still largely absent on mainstream television. 
Jill Soloway's Transparent casts a spotlight on Maura, a closeted transgender father of grown children, characters whose own sexual identities remain in question. The pilot, which shows her struggle to come out to her family, gives viewers a refreshing look at how a trans adult deals with the constant battle between internal normalcy and the externally accepted version of it.
"No wonder I was so obsessed with these questions," Soloway, whose own father revealed she was transgender, told the New York Times. "I think out in front these gender questions were part of our family — the discomfort with traditional roles of masculinity and femininity in our house."
5. 'Be Here Nowish' by Roxo and Natalia Leite
Historically, lost and elusive characters are young men, who seem to be given a more generous timeline to "grow up." In Be Here Nowish, it's a young lesbian who's finally coming of age.
The show's creators, Alexandra Roxo and Natalia Leite, cast themselves as the stars, seeking some form of enlightenment on a "spiritual bootcamp" in L.A. As Leite's character, Nina, develops throughout the series, we see her hesitate to commit to any one woman, job or spiritual path. She doesn't quite know what she wants and struggles, like many straight male characters have before, to find the balance between emotional fulfillment and fun.
"We've had equal response from girls and guys," said Roxo. "Some of these things like clubbing, dating, sex and having issues with the way we look – that's universal and not specific to women or age." 
6. 'The Outs' by Sasha Winters
Many prime time shows that star gay men typically cast them as the token best friends to rambunctious women (Sex and the City, Will and Grace), there to spew compliments and accompany women on shopping excursions. However, The Outs, a series about three gay New York men with complicated and interwoven love lives, is grounded by a token (and brutally honest) straight woman. Cocreator Sasha Winters casts herself as Una, the wingwoman to this love triangle. 
This story is a collaboration between Mic's branded content team and Cole Haan; it was not written or created by Mic's editorial staff. To learn more, visit our Branded Content FAQS page.