11 Pop Singers Worth Listening to Over Any Mainstream "Pop Star"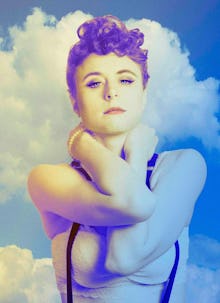 It's hard to tell people you like pop music. Inevitably, "pop" conjures ideas of fluffy, insubstantial tunes targeting the lowest common denominator. To some extent, that's true — it's difficult to argue that consumerism and capitalism aren't the driving forces behind pop music, and that sometimes that makes for meaningless fluff.
But there's nothing wrong with an irresistible hook. And when it comes down to it, everybody loves a catchy song.
In that spirit, here are 11 artists who write great pop songs but aren't actually pop stars. Their music is catchy, artistic and fun, but you won't hear them on the radio. And that's a good thing.
1. Kiesza
Kiesza came out of nowhere. Before she was a singer, she nearly became a sniper in the Canadian navy. But earlier this year, when she released the one-take dancing video for her song "Hideaway," she blew up almost immediately.
"Hideaway" went on to become the third-fastest selling single of 2014 in the U.K. It's also received plenty of critical acclaim for successfully pulling off a '90s-inspired disco track. Its pulsing rhythm and infinite dance-ability underscore the song, perhaps owing to Kiesza's past as a ballerina. As if all that weren't enough to win us all over, Kiesza recently announced that she's written songs for Rihanna's upcoming album. She has the best of both worlds.
2. Mapei
Half-American, half-Liberian Mapei has been creating music for quite a while. She started out working in rap, but it wasn't until she went on to collaborate with Justice on "Don't Wait" that she caught the music world's attention.
The song has reached No. 1 on Hype Machine repeatedly, and for good reason; it flawlessly toes the line between sadness and sensuality. The track incorporates different cultural influences, opening with Brazilian baile funk drums. The mashed-up sound makes sense, as Mapei grew up all over the world. She started in Rhode Island, then spent time in Sweden, Brazil and Tunisia. Her album is set to drop on Sept. 23, and although "Don't Wait" is almost perfect, her new single "Change" is even more fun.
3. Haerts
Haerts makes music like Fleetwood Mac would have made if they were just starting today. A quartet from Brooklyn, N.Y., they have American roots as well as German and English. Vocalist Nini Fabi can conjure a dreamy aural haze like no one else.
Haerts were all over the blogosphere on "best of 2013" lists, and they're not slacking off in 2014 either. They intend to release their debut LP on Oct. 28. 
4. Betty Who
Betty Who gained instant notoriety when Spencer Stout used her song "Somebody Loves You" to propose to his boyfriend via a flashmob at Home Depot. The video currently has more than 12 million views, and what's more, the couple famously got married during Macklemore's epic performance of "Same Love" at the Grammys.
Clearly, Betty Who's catchy melodies have the capacity to inspire and connect people, but she's recently also proved that her songs are as delightful as they are meaningful. "All of You" and "Runaways," which precede her Oct. 7 album Take Me When You Go On, capture the heart of innocent young love, driving pop music to its sweet edge with euphoric hooks. 
5. Adore Delano
The sixth season of RuPaul's Drag Race was infinitely better than the fifth, almost solely because of Adore Delano. Since the show, Delano's been making club jams like "DTF," but her summer single "I Adore U" is a power-pop ballad that is simply beautiful. Her vocals soar, the rap bit is on point and the video is a brutally honest, gorgeous visual that matches the song's sincerity.
6. Lo-Fang
Thirty-year-old Matthew Hemerlein is a bona fide musical prodigy: He's classically trained in violin, cello, bass, piano and guitar. No one since Andrew Bird has so easily switched between instruments, playing the violin onstage like a third appendage. But his real selling point is his hypnotic voice.
He's commited to playing with bold gender identities too, balancing out the masculine and the feminine in his life and music. He sees "fang" (his industrial beats) as male and "lo" (his string melodies) as female. He wrote his debut album, Blue Film, while traveling, and plays every instrument on the album himself. All his conscientious artistry paid off when Lorde named his song "No. 88" as her favorite of 2013 and then invited him to open for her spring 2014 tour.
7. Lolawolf
No one has electro-indie pop down like Lolawolf. The band is fronted by fashion darling and actress Zoë Kravitz (the daughter of Lenny Kravitz and Lisa Bonet), who, of course, sings beautifully. Their music is warm and atmospheric, with a sarcastically funny edge perhaps best summarized by the lyric on "Drive (Los Angeles)": "I could stare out your window, and fuck you tonight."
Just as artists like the Weeknd and Drake brought melancholy back to mainstream R&B, Lolawolf is making pop darker and far more interesting. 
8. Lowell
"When I first stopped stripping and started making music, I was legitimately blackmailed by people," singer Lowell told Radio.com. "But I realized that all I could do was just be comfortable with who I was ... and just try to be the best person I could be and not give a shit what anybody thinks."
It's this willingness to open up to her fans, to share her past and present with us, that makes Lowell a successful modern star. Her quirkiness might keep her off the top of the charts, but her music is still phenomenally catchy. She's also incredibly smart, careful not to discriminate against sex workers by denouncing her past. She convincingly articulates that stripping can be empowering, but that the surrounding industry is what can sometimes be victimizing. Her music is political yet fun, a perfect combination.
9. MisterWives
Pop music is known for being overproduced and autotuned, perhaps because it's often more about image than rigorous musical training. But that's not true for New York-based MisterWives, whose lead singer, Mandy Lee, attended visual and performing arts powerhouse LaGuardia High School and studied opera. Their band name is also a sassy play on Mormon "sister wives," but instead of polygamy, Mandy is "married" to her five male bandmates. They also do a killer cover of Sam Smith's "Money on My Mind."
10. TALA
Listening to TALA is like unwrapping a present, with infinite delightful surprises hidden under every rich sonic layer. TALA is half-Iranian, but she grew up in South London, and she's making sure that her music is a reflection of her diversity and identity.
"Growing up in quite a diverse family and in such a melting pot, I've always mixed cultures," she writes in BuzzFeed. "That's just a part of who I am, and it's a part of my music and imagery. We live in a time where certain imagery from the Middle East can be quite alien to Western culture and quite scary for people sometimes. If you can take the positive aspects of what is quite a beautiful culture, than I think it's great to throw that in the mix."
If music is a universal language, then it's people like TALA who can really get a positive message across. 
11. Alvvays
This is washy lo-fi pop. Yes, that's been done many times before, but Alvvays does it impeccably. Their first single, "Archie, Marry Me," was the No. 1 most-added song on college radios across America and Canada. It's understandable; the song's chorus is painfully true to a 20-something experience: "It's too late to go out, too young to stay in."
Molly Rankin, the lead singer, is of the famed Rankin family, a Canadian musical family with many awards to their name. But she'll prove any critic crying nepotism wrong: Alvvays' debut is a powerhouse because of her gorgeously wistful voice and her own compelling lyrics.