James Brown's Daughter Reveals a Hard Reality About the Cycles Of Domestic Abuse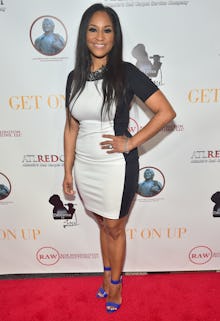 When it comes to domestic violence, why do some abusers face a backlash and others never truly face the music?
Yamma Brown, daughter of the Godfather of Soul, James Brown, has penned a new memoir about growing up in an abusive home, writing candidly about how witnesssing that violence "programmed" her "to accept abuse as part of life." Cold Sweat: My Father James Brown and Me details the constant abuse Brown's mother received at the hands of her father. James Brown's abusive behavior had been well known, but this is the first time it has been documented to such a heartbreaking extent by one of his daughters, whose daily life was filled with terror.  
Because of Ray Rice, people are talking, and seriously, about domestic violence. But why has it taken video footage, as "proof," for society to take up domestic violence as a serious issue, when, according to the National Network to End Domestic Violence, on average, three women are killed in domestic violence incidents in the U.S. every day, and "1 in 4 women," according to a report by the Centers for Disease Control and Prevention, "have been the victim of severe physical violence by an intimate partner in their lifetime"?
Developments in technology have increased the prevalence of surveillance in society, allowing us, for instance, to witness "private," hidden moments not intended for public consumption. The viral surveillance video of Rice assaulting his then-fiancee in a casino elevator exponentially raised awareness of domestic violence, with victims of domestic violence ringing hotlines across the country to report and seek help for cases of assault. The video also raised awareness that domestic violence happens can happen to or be perpetuated by anyone, even beloved celebrities. 
Living under the daily threat and reality of violence, Brown saw her father "pummeling her [mother] with clenched fists." That became the norm for her, informing her adult relationships and specifically her first marriage to a man who also physically and verbally abused her. Brown's account dovetails with what activists have been saying for a long time, that the cycle of violence begins way before the first punch is thrown. 
"I was in college before I stopped trembling every time my father raised his voice," Brown wrote in a long excerpt printed by Vulture. "He could be shouting at a business associate over the phone and I'd be quaking in a corner somewhere. I didn't need a psychiatrist to tell me that witnessing my father beating on my mother like she was a Mexican piñata would have a profound effect on me."
Brown quotes Stephen King to explain how victims adapt to abuse and, like victims of Stockholm Syndrome, come to expect it because it is part of the norm. Abuse and violence is what is familiar and therefore comforting to them:
People outside such relationships will sometimes ask, 'How could you let such a business go on for so many years? Didn't you see the elephant in the living room?' And it's so hard for anyone living in a more normal situation to understand the answer that comes closest to the truth: 'I'm sorry, but it was there when I moved in. I didn't know it was an elephant; I thought it was part of the furniture.'
Brown left her own husband after ten violent years. As the hashtag #WhyIStayed has proven, there are myriad, complex reasons why women stay in abusive relationships, with the psychological and emotional history of an individual clearly influencing her choice to stay.  
Brown's memoir shows how domestic violence serves as a means for men to maintain their superiority and power over women. Her work implores us to take women at their word. We shouldn't need visual, video "proof" to take domestic violence seriously — even when the alleged abuser is someone as influential as a star athlete, or the man Rolling Stone once wrote was so talented, he seemed "touched by God." 
Image Credit: Getty