10 Empowering Bisexual Confessions Highlight the Benefits of Finally Coming Out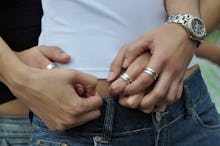 It's still hard to be an out-and-proud bisexual. Despite the growing LGBT presence in mainstream culture, TV hosts still ask bisexual actors if they are "practicing" bisexuality, advice columnists still tell bisexuals to stay in the closet and the New York Times is still trying to figure out if the identity even exists. This is pretty ironic, since according to a report released by LGBT-focused think tank Movement Advancement Project, 52% of the LGBT community identifies as bisexual.
The gay, lesbian and straight communities all contribute to biphobia, the negative attitudes and stereotypes perpetuated against bisexuals that make it difficult for bisexuals to feel accepted when they come out. In a report released by the Human Rights Campaign (HRC), 56% of bisexual youths felt they didn't have a supportive family member to come out to, compared with 46% of gay and lesbian youths. Similarly, only 28% of bisexuals said that all the important people in their life know they are bisexual, compared with 77% of gay men and 71% of lesbians. The lack of bisexual role models certainly contributes to this problem. Bisexual youth have few examples of bisexuals represented on major television shows or in Hollywood. Indeed, out-and-proud bisexuals like Alan Cumming and Anna Paquin are the exception, subject to second-guessing and skepticism.
There's still a lot of work to be done in and out of the LGBT community on bisexual awareness and education, but slowly things are looking up. Today, as we mark another Celebrate Bisexuality Day, bisexuals around the country and the world have been tweeting about their experiences using the #MyBisexualityIs hashtag.
Living authentically is important for anyone's identity — whether gay, straight or bisexual. Today let's remember that bisexuals deserve to be treated with respect to come out, just the same as their lesbian, gay and transgender brothers and sisters. Here are a few inspiring stories from anaonymous sharing app Whisper users who came out as bisexual to their friends and family with surprisingly empowering results:
1.
2.
3.
4.
5.
6.
7.
8.
9.
10.