This popular TikTok chef left his prosecutor job after old, racist tweets resurfaced
"Chef Way" apologized for his harmful comments toward Black women, but not everyone is impressed.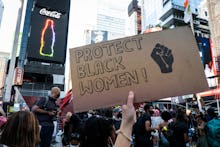 Ira L. Black - Corbis/Corbis News/Getty Images
Waymond Wesley, aka "Chef Way" on TikTok, was known for his food content — but after Twitter users unearthed posts where he made misogynistic, colorist, and body-shaming comments about Black women, things pretty quickly went downhill. On Jan. 24, Wesley tweeted a lengthy apology for his past behavior and announced his decision to quit his day job as a prosecutor at the Harris County, Texas district attorney's office.
"I was a bully in 2015 that chose to pick on the most disrespected, unprotected, and neglected demographic in America: Black women," Wesley wrote in his four-page apology letter. "On Twitter from 2015-2016, there was a sick trend that targeted and trolled Black women to gain attention and followers. Unfortunately, I joined this trend," he added, explaining how his alcoholism at the time influenced his behavior. "These tweets ... were the product of a very sick individual who hated himself and only wanted attention."
Wesley started working at the DA's office in March 2021, according to NBC News affiliate Click 2 Houston, but he joined TikTok the year prior. As an at-home chef whipping up delicious-looking meals in his own kitchen, Wesley's rise to fame on TikTok seemed wholesome enough. Since 2020, he's amassed over 250,000 followers and more than 2 million likes by posting how-to cooking videos using his own recipes for dishes like oxtail empanadas, crawfish ravioli, and more.
But in early Jan. 2023, Twitter users resurfaced many of Wesley's old tweets (posted on his now-deleted account @WaymoTheGod) that targeted and harassed dark-skinned Black women as far back as 2015. In one 2015 tweet, Wesley posted a photoset comparing a Black woman to a trash landfill, writing "I see no difference." In another, he targeted Sandra Bland, a Black woman who was found dead in her jail cell by apparent suicide just three days after being arrested for a minor traffic violation in 2015. "if black lives mattered to sandra bland she wouldn't have taken her own life. i'm serious too," he wrote, according to screenshots from @tayshusmama, who also shared screenshots of Wesley's colorist and fatphobic comments about Black women.
Considering he would later become a prosecutor in Texas — where the Black community makes up only 12% of the population, but Black women make up 26% of all incarcerated women, per the Texas Center for Justice & Equity — Wesley's comment about Bland is particularly disturbing and signals just how dangerous misogynoir can be in everyday life. As the meeting point of racism and sexism, misogynoir is often used to oppress Black women by devaluing them, typically while blaming them for their own mistreatment — and sometimes even blaming them for the injuries or deaths they face at the hands of their oppressors.
When his old tweets first resurfaced and went viral, thousands of people immediately called for Wesley to be fired from the DA's office — though his employer, Harris County DA Kim Ogg, initially stood by him, stating, "I believe in second chances," according to BuzzFeed News. Ultimately (and after he lost at least one brand partnership), Wesley announced his resignation in his Jan. 24 apology letter. "Once I saw that my presence at the DA's Office was becoming larger than the Office itself and the ability of Black women, in particular, to feel protected, I knew the only correct course of action was to resign and allow the healing process to begin," he wrote.
Despite the tweets, Wesley insisted, "I do not hate Black women. I have never hated Black women. I was addicted to the vitriol and hatred that was spewed back and forth between myself and other users that were angered by my posts." Somehow, this mentality makes his behavior seem even more slimy.
It seems not many people were impressed with his apology, though. "Your colorism and disrespect for Black woman is not forgiven," wrote Twitter user @PolishedDreamer. "Im [sic] tired of Black men being the first oppressor of Black woman and then expecting us to save you."
@DavitaDavison tweeted, "Chef Way is yet another example of how Black men can spend years humiliating & harming dark skinned black women and then expect us to believe that it was a 'phase' they grew out of."