Meta might actually let you Free the Nipple
You can thank this trans and nonbinary couple who fought Instagram's medieval guidelines.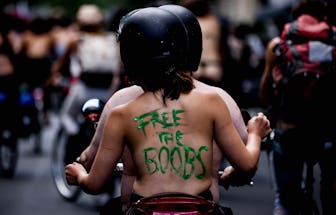 FILIP SINGER/EPA-EFE/Shutterstock
Facebook and Instagram are pretty notorious for their tight-laced, stringent policies on partial nudity — just look at the many years of Free the Nipple campaigns and posts specifically calling out the social media company's double standards. Now, though, there might actually be some positive change incoming. In a recent statement, the Meta Oversight Board seemed to suggest the current rules may be a little too medieval for modern times and recommended that the social media conglomerate "clarify" its guidelines on this kind of content.
The statement was part of the oversight board's response to Instagram's removal of two posts featuring pictures of a trans and nonbinary couple, Col and Ari, showing their bare chests (with their nipples covered) in 2021 and 2022. The posts were intended to raise awareness about a fundraiser for Ari's top surgery, according to The New York Times, but Instagram took them down after other users reported them for violating the site's Sexual Solicitation Community Standard by … showing covered breasts in a non-sexual way. Okay then.
The posts were restored, however, when the couple appealed — and Meta's oversight board had something to say about those weird "Sexual Solicitation" guidelines. "The restrictions and exceptions to the rules on female nipples are extensive and confusing, particularly as they apply to transgender and non-binary people," they said in their case summary. "The lack of clarity inherent in this policy creates uncertainty for users and reviewers, and makes it unworkable in practice."
The board also called for updates to the platform's Adult Nudity and Sexual Activity Community Standard, "so that all people are treated in a manner consistent with international human rights standards, without discrimination on the basis of sex or gender."
It's no secret that femme bodies are, in many parts of the U.S., more strictly regulated than guns. And that kind of suppression is felt in more than just state and federal laws. Instagram's current standards forbid nude photos, with certain exceptions for "health related situations," such as breastfeeding and mental health awareness. However, countless artists and content creators have chided the social media platform for overstepping those standards to stringently regulate partially nude photos, no matter the situation.
So, for the board's first time handling a case directly involving trans and nonbinary users, it seems like it's headed in the right direction. Col and Ari certainly seem to think so. In an Instagram post celebrating the news, the couple wrote that the oversight board's recommendation "will hopefully result in the nip finally being free on Instagram and Facebook for EVERYONE."
In the meantime, as they noted, this situation is proof it's worth it to call out injustices as you see them. "When we submitted our case, we didn't imagine this would be the result or that anyone would even care — but we did it anyways," they wrote. "So, in other words, always speak up even if you think nobody is listening... you might just f around and free the nip."