Pamela Anderson on the devastation that followed her leaked sex tape
"If I wasn't a mom, I don't think I would've survived."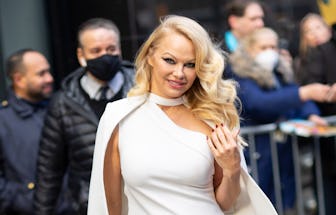 Gotham/GC Images/Getty Images
Ah, Pamela Anderson: She's an icon, she's a legend, and now, she's using her voice to reclaim her narrative and tell her own story. In an exclusive interview with Jim Axelrod for "CBS Sunday Morning," Anderson delved deep into the details of her childhood trauma, her marriages, and the infamously stolen sex tape between her and then-husband, Motley Crüe drummer Tommy Lee.
"The whole point is not keeping those secrets, or those things buried," Anderson, who has a book and a Netflix documentary on the way, told Axelrod. In the interview, which will be aired in full Jan. 15 on CBS, and streamed on Paramount+, she talked about the devastating trauma and abuse she suffered as a child and how her experiences played a role in shaping her identity. "These were pivotal moments for me," she said.
As for the notorious sex tape released without her consent, Anderson made it clear she wants audiences to understand one thing: "It was stolen property," she told Axelrod, with a resolute tone in her voice. "Those tapes were not meant for anybody else to see. And I've not seen it to this day." The tape, which depicted Anderson and her then-husband Lee, was stolen by disgruntled ex-employee Rand Gauthier in 1995 and subsequently illegally distributed on black market websites. In the aftermath, Anderson suffered a barrage of unwarranted backlash; within mere days, Anderson's career, reputation, and mental health state were turned upside down.
"It was very hurtful," she told Axelrod. When Anderson and Lee settled a lawsuit against Internet Entertainment Group over the posting of the tape in 1997, she was seven months pregnant with her second child. While it was undoubtedly a devastatingly stressful time in her life, Anderson revealed in the new CBS interview that caring for her two young sons grounded her amid the turmoil. "I was a mother. That saved me," Anderson said. "If I wasn't a mom, I don't think I would've survived."
After what must have been a harrowing journey toward peace, it seems like Anderson has finally found it. "I feel like I've left here, did something crazy and came back in one piece," Anderson said. "Like I said, I don't know what I'm capable of. I still don't know, but I think that was the beginning," she added. "All the rest of it, it's, you know, behind me. I feel like I'm in a really good place."