3 activists tell us how they keep the faith in the fight for racial justice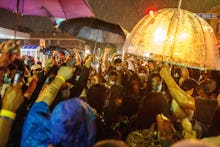 Protesters gather in the rain in Minneapolis on May 26, 2020. [Photo by KEREM YUCEL/AFP via Getty Images]
Tuesday, May 25, marks the one-year anniversary of George Floyd's murder at the hands of the Minneapolis police. Over the past 12 months, his death has served as a rallying cry for countless racial and social justice movements not only in the United States, but around the world. Here, Mic explores how inequality and injustice were brought to the fore in the wake of his killing.
It has now been a year since former Minneapolis police officer Derek Chauvin murdered George Floyd in broad daylight. In the immediate aftermath of Floyd's murder, nationwide protests led to reinvigorated calls to defund and ultimately abolish the police. While abolition is still very much a work in progress, there have been some changes on a policy level, like the new chokehold bans in Connecticut, Iowa, and a few other states. But it's not enough.
Anyone who has spent even a week organizing can tell you that this work is exhausting. To some extent, "failure" is a part of any movement, and this is especially true when it comes to movements rooted in racial justice. When you are working to disassemble something as large as white supremacy, you can expect that it will push back, eager to maintain its power. That's why reform policies — while sometimes able to make life a little bit easier — will always "fail" if they are looked to as the only solution. This is especially clear with policing, where reforms like chokehold bans don't address the overall violence of the institution's very existence.
But if campaigns don't always take off, if new policies aren't always helpful, if some level of failure in organizing is unavoidable, then why would anyone continue with this work? Mic spoke to three organizers about their experiences and why they continue fighting, even when it may seem like all the odds are stacked against them.