5 Black women imagine what true justice for Breonna Taylor would look like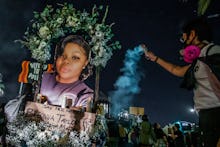 APU GOMES/AFP/Getty Images
In March, police in Louisville, Kentucky, shot and killed 26-year-old EMT Breonna Taylor while she was sleeping, during an early morning raid conducted with a no-knock warrant. Since her murder, Taylor's name has echoed across the nation as protesters demanded justice. But following Wednesday's announcement that the grand jury decided not to charge any officers for Taylor's killing, many have been left feeling disillusioned and lost.
After police shootings, justice in the public imagination often becomes constrained to the boundaries of carceral systems. There is nothing to do but charge the police and hope they get sent to prison. But time and time again, this fails to happen. In rare instances, a grand jury may indict an officer, like in the case of 7-year-old Aiyana Stanley Jones's death. Joseph Weekly, who shot Jones, was indicted by a one-person grand jury on charges of involuntary manslaughter, a felony, and careless discharge of a firearm causing death, a misdemeanor. Later, a judge dismissed the felony charge, citing a lack of evidence.
In some ways, Taylor's and Jones's cases echo each other. Both were asleep — one in her bed, another on her grandmother's couch — and killed during a raid. There was no justice for them to be found in the criminal justice system. Nobody was sent to prison; nobody was punished. But why do put our hope into prisons? How have these institutions — which detain, surveil, and brutalize Black women and children just like Taylor and Jones — become our measurements for justice?
Once, Octavia Butler, a literary giant often regarded as the mother of Afrofuturism, said the following when asked what good science fiction is to Black people: "At its best, science fiction stimulates imagination and creativity. It gets reader and writer off the beaten track, off the narrow, narrow footpath of what 'everyone' is saying, doing, thinking — whoever 'everyone' happens to be this year."
While everyone demands indictments and prison, there is a type of justice that exists far beyond them both. Throughout this summer, we have seen people departing from the narrow tracks set out for them, like in the protests that erupted last night in Louisville or the burning of a police precinct in Minneapolis. Mic spoke with five Black women about their determination to move beyond carceral systems and imagine a new type of justice for Breonna Taylor.