8 international students on the fear of being deported during a pandemic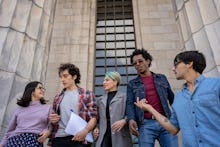 FluxFactory/E+/Getty Images
Just as universities across the country have finally begun to address the heavy uncertainty surrounding the upcoming academic year, college students now face an entirely new hurdle: that their international peers risk losing their U.S. visas.
On Monday, Immigration and Customs Enforcement announced that international students must leave the U.S. if they do not attend universities with in-person instruction. Two days later, Harvard and MIT initiated a lawsuit against the Trump administration; universities like Carnegie Mellon and Penn State joined the suit shortly after. Many more have decried the recent measure in emails to their student bodies and announced efforts to satisfy the guideline's requirement for in-person instruction.
In a report published this year, the educational nonprofit NAFSA estimated that nearly 1.1 million international students in the U.S. contributed a stunning $41 billion to the domestic economy during the 2018-2019 academic year. They also found that 3 domestic jobs were supported or created for every 7 international students who studied in the U.S.
But these statistics do not capture the immeasurable benefits that international students have provided U.S. colleges. Beyond enriching campuses with cultural awareness and diverse perspectives, international students have spurred the nation's innovation and intellect — all while having sacrificed finances and familiarity, among other things, to study here.
The U.S.'s hostile social and political environment and exhaustive visa application process were among two of the leading factors that had discouraged international students from pursuing higher education in the country, causing a decrease in enrollment since 2016. But the latest visa restriction — in addition to the administration's lacking and late pandemic response — may only deepen these students' hesitance. And this is a problem; with international education occupying the spot as the country's fifth-largest service sector export, ICE's measure will prove to be a heavy price in terms of our domestic economic future and international relations.
Speaking to this murky new reality, 8 international students reflect on how the latest measure has impacted their presents and futures.
Due to privacy concerns, some entries are anonymous.