It's time to put down the pussy hats and pick up the pitchforks.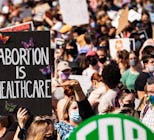 Allison Bailey/NurPhoto/Shutterstock
5 people of color on the Supreme Court's leaked abortion ruling
In 1973, the Supreme Court made a landmark decision that ensured peoples' rights to have abortions. Roe v. Wade has been under attack ever since, with Republicans ramping up their efforts in recent years through legislation like Texas's infamous abortion ban. And soon, it will be even easier for states to pass such bans: A leak of a scathing Supreme Court opinion, first released by Politico and later confirmed as authentic by the Court, indicates that Roe will be overturned next month.
Most reporting about restricting abortion access has focused on Republicans. While they certainly led the charge, Democratic leadership has consistently dropped the ball. Under former President Barack Obama, Democrats had a chance to codify Roe — in fact, Obama promised Planned Parenthood in 2007 that the "first thing" he'd do as president was sign the Freedom of Choice Act. But as The Cut reported, in 2009, the then-president said it was not his "highest legislative priority."
With this in mind, President Joe Biden's response to the leak — in which he puts the onus on voters — is especially frustrating, and even more so for people of color. If Roe is overturned, communities of color would face some of the most severe repercussions. One study found that a national abortion ban would lead to a 21% rise in the number of overall pregnancy-related deaths; for Black women, it would be a 33% rise.
What else can be done now, though? Is it the time to reject voting altogether? Mic spoke to five people of color about the SCOTUS leak and how we can all help to protect reproductive agency overall.
These responses have been lightly edited for length and clarity.