40 dumb mistakes you're probably making that cost you money
These common blunders can add up fast.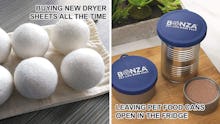 We may receive a portion of sales if you purchase a product through a link in this article.
If you've ever wondered where all your money goes, there are a few common mistakes that could be costing you some serious dough. Many of them can be fixed by easy swaps and small changes in your day-to-day life and add up to considerable savings throughout the year. Plus, none of them cost much to begin with, so you can start reaping the benefits right away.
There are money-saving fixes for everyone on this list. Tired of buying plastic wrap and paper towels over and over again? Consider some reusable options that will pay for themselves in no time. Ever feel like your energy bills are getting out of hand? There are several picks that help reduce heating and cooling costs and save electricity throughout the year. You may also be able to finally cut your daily coffee shop habit by investing in some quality accessories to create yummy beverages that rival those of your favorite barista. Small things that make it easy to cut back on delivery and food costs can pack a big punch, and making your current items (like shoes and furniture) last longer before having to replace them can save you a ton.
So, when you're ready to stop wasting money and save more for things you enjoy, read on for some easy solutions on Amazon.