40 cheap fitness products that work so freaking well
Because it's always the right time to upgrade your exercise routine.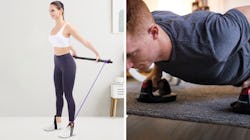 We may receive a portion of sales if you purchase a product through a link in this article.
Anyone who considers themselves an active person is going to love these Amazon finds that will enhance any workout routine without your wallet feeling the pain of spending an arm and a leg on new equipment. The best thing about all of the finds on this list? They get you the results you want and are built to last.
Even if you don't necessarily think of yourself as an active person, some of the items here may inspire you to try something new. It's always the right time to change things up and start a new routine.
For one, you can change up your typical cardio workouts by sprinkling in some entertainment with a smart jump rope. You'll find yourself amazed by the progress you track. When you're competing with only yourself, you can still have a ton of fun while you watch yourself improve — and get stronger — with time.
There are also plenty of products that are compact and portable, making it convenient and easy for you to be active wherever you happen to be at the moment.
If you're even just looking to simply upgrade some of your current at-home gym equipment, you'll be able to find quality and affordable replacements on this list.