Damar Hamlin FaceTimed his team after getting his breathing tube removed
The athlete is on a steady road to recovery.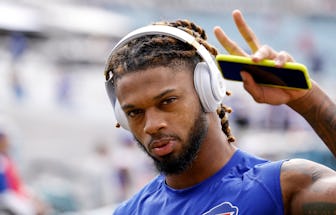 Don Juan Moore/Getty Images Sport/Getty Images
After spending four days in the University of Cincinnati Medical Center's intensive care unit, Buffalo Bills safety Damar Hamlin is showing clear signs of recovery. According to his agent, the 24-year-old athlete is now able to breathe and speak on his own — an incredible feat after suffering a cardiac arrest and being resuscitated on the field during the Jan. 2 game against the Cincinnati Bengals. On Friday, Hamlin's teammates showed their love and support for him through a team FaceTime call.
"I probably won't be able to do it justice," Bills coach Sean McDermott told reporters during a Jan. 6 press conference. For Hamlin's teammates, McDermott said, the video call came as an encouraging surprise. "To see the players' reaction, they stood up right away and started clapping for him and yelling some things." During the first quarter of Monday night's game against the Bengals, Hamlin collapsed after what seemed like a routine tackle. The scene was absolutely devastating, as emergency medical responders worked to resuscitate the athlete.
Despite the tragic circumstances, Hamlin is steadily recovering. During a Jan. 5 news conference, doctors said Hamlin had already made a "fairly remarkable recovery and improvement," The Athletic reported. On Friday, the Bills tweeted that UCMC doctors confirmed Hamlin's breathing tube was removed and that "his neurologic function remains intact and he has been able to talk to his family and care team."
Before his breathing tube was removed, Hamlin could speak to others by writing and gripping people's hands, the Associated Press reported. During the video conference, Hamlin communicated to his teammates using familiar hand signs he'd routinely used with them before — including forming a heart with his hands — and told them, "Love you boys" as a sign-off.
Hamlin has received an outpouring of love and support from fans, players, and coaches alike, with a series of league-wide honors planned to recognize his strength during his recovery. Almost immediately following his hospitalization, donations started pouring in for Hamlin's charity and annual community toy drive; in less than 24 hours, the organization received $4 million. (The total is now just under $8 million.)
"He's just an infectious young man with an infectious personality," McDermott said during Friday's news conference. "Just to see Damar, number 1 through my own eyes, it was something I was hoping to see and kind of something I needed to see."