This hallucinogen is looking pretty promising for depression treatment
A single dose can ease symptoms for weeks, according to a recent trial.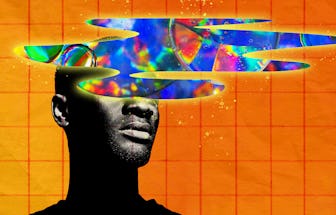 Lorenza Centi
Can psychedelics be the quick fix for depression? It's certainly looking that way, according to the first major study that's putting DMT (N-dimethyltryptamine) — the active, hallucinogenic ingredient found in ayahuasca — at the forefront of early trials.
The clinical trial by UK-based biotech company Small Pharma explored the benefits of using DMT to treat major depressive disorder, through a short IV infusion of DMT in 34 patients. In addition to supportive psychotherapy, participants — all of whom were diagnosed with moderate to severe depression — were given a one-time dose of 21.5mg, which resulted in a 20- to 30-minute hallucinogenic experience. Each participant's level of depression symptoms, post-session, was assessed using the Montgomery-Asberg Depression Rating Scale (MADRS).
Two weeks after the trial, per Small Pharma, participants demonstrated "a statistically significant and clinically relevant reduction in depressive symptoms," and at their three-month follow up, participants experienced a 57% remission rate overall. The drug performed impressively well when compared to placebo results, with there being a 7.4 point difference in MADRS between the two groups after two weeks. All told, this trial appears to be a pretty notable breakthrough in the realm of using psychedelics as mental health treatment. (Even Prince Harry agrees.)
We've already seen groundbreaking scientific results of hallucinogens, like magic mushrooms, as it pertains to mental health disorders, but this one takes the race to popularizing psychedelic-assisted therapies to the next level. While other studies have required more than one dosing session to garner noteworthy results with the end goal eventually being mainstream (responsible) consumption, this DMT study's results came after one single session.
"For patients who experience little benefit from existing antidepressants, the potential for rapid and durable relief from a single treatment, as shown in this trial, is very promising," Dr. David Erritzoe, Clinical Psychiatrist at Imperial College London and Chief Investigator of the study, said in the news release.
As for the next step? The results of the study are expected to be published in a peer-reviewed journal, likely solidifying its role in researchers' psychedelics-as-a-respected-treatment campaign.
​​