40 easy ways to make your home look so much more expensive
A simple adjustment can be all it takes to give your room a sophisticated edge.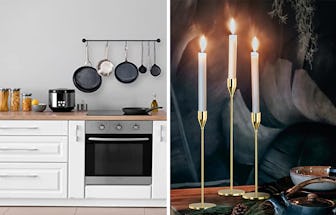 We may receive a portion of sales if you purchase a product through a link in this article.
Interior decorating feels like a series of magic tricks — totally mysterious. But knowing a few clever, budget-friendly design hacks can make all the difference in giving your home a high-end, luxury look. Sometimes, all it takes is placing a statement-making ceramic vase on your coffee table, or installing modern stainless steel handles on your cabinets and poof! Your living space is instantly elevated. (Like pulling a rabbit out of a hat.)
In many cases, a very simple adjustment is all it takes to give your room a sophisticated edge. Rather than let your charging cables get tangled by your bed, use this compact nightstand lamp that's equipped with four USB ports to keep your cords neat and organized. Want to add some greenery to your space, but too busy to care for real plants? These faux potted succulents are the answer. Below, you'll find lots of wallet-conscious home items that seem more expensive than they are.