50 genius things that seem expensive but are actually bargains on Amazon
Now you can pat yourself on the back for shopping smart.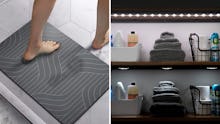 We may receive a portion of sales if you purchase a product through a link in this article.
Online shopping can be a lot like treasure hunting. It takes a while to sort through all the average, run-of-the-mill products, but it makes finding a true gem much more worth it. I'm talking about genius items that seem expensive, but are surprisingly really, really good deals. They're out there, and I've assembled a ton for you to peruse. From luxurious home upgrades to brilliant storage solutions, here are some of the best bargains on Amazon.