30 gross mistakes you don't realize you're making with your pets
Make your pets' lives — and your own life — a lot easier.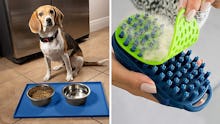 We may receive a portion of sales if you purchase a product through a link in this article.
Pets are resilient creatures, but that doesn't mean you don't feel guilty as an owner when you fail to ensure their well-being to the best of your ability. Much like parenting, being responsible for a dog or cat comes with its own set of stressors and challenges. Are they staying hydrated after long walks? Will that toothpaste upset their stomach? Is their collar too tight? If only your four-legged friends could talk, right?
Thankfully, solutions to most of your pet-related problems are just a couple of clicks away, whether you're in the market for deodorizing wipes that get into every crevice of your dog's face, a nail trimmer that helps prevent unwanted accidents, or a scooper that keeps the litter box spick-and-span. The best part? You can find these items and plenty of other helpful gadgets on Amazon for less than $40 each. It's a worthwhile endeavor. After all, your pet makes your day-to-day so much better, so why not make their existence more comfortable in turn?
Below, you'll find a curated list of items that will improve your best friend's quality of life (and your own). All products have been selected for their countless positive Amazon ratings and ease of use, so there's no worrying about whether you're doing well with your pet. If anything, they'll enjoy these purchases even more than you will.