Watching porn in Louisiana? You'll need a state ID for that.
It's part of a new law that requires people to verify their age to watch porn online.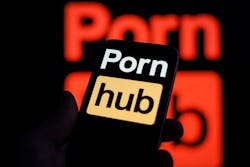 NurPhoto/NurPhoto/Getty Images
Watching porn in Louisiana just got more complicated. As of Jan. 1, 2023, Louisiana law requires visitors to commercial websites like PornHub to verify their ages by providing a government-issued ID.
The legislation, which was signed into law in 2022, requires sites where at least one-third of the content is "material harmful to minors" (which is a pretty broad classification) to verify users' ages. If they fail to do so, they can be held liable and sued by individuals, like parents taking legal action on their kids' behalf. And the age verification process isn't your run-of-the-mill "enter your birthdate" form that already exists on some sites (as well as alcohol sites, for example). Per the new law, Louisianans who want to view porn have to use their driver's license or another state-issued ID to verify that they're over 18.
According to Vice, the verification process is largely in effect for many sites: If a user visits PornHub from a Louisiana-based IP address, the site prompts them to verify their age through third-party ID verification app AllPassTrust. Twitter user @PublicDefendering shared a video of the process, which includes an assurance from PornHub that the site doesn't collect user data — though that alone may not be comforting enough to users wary about all sorts of privacy issues, surveillance, and data collection.
There's also concern about how this new bill may affect marginalized groups, as The Washington Post reported in 2022. Sex workers, along with advocates of the adult industry, have denounced this and similar legislation as an attack on the industry as a whole, and have claimed such bills are part of a continued push to censor sexual speech online.
Republican Louisiana Rep. Laurie Schlegal, who introduced the bill, maintains it's only intended to prevent underage viewers from viewing sexually explicit material online — not limit porn that adults can access. "This bill is strictly about protecting children," she said in a Dec. 31, 2022 statement. "It's going to be up to the pornography companies to comply and, obviously, how people will hold them accountable."
While Louisiana is the only state that has implemented such a law, there are continued efforts among (primarily Republican) lawmakers to censor or ban sex work. In December 2022, Republican Utah Senator Mike Lee introduced a bill that would similarly require age verification on a national level. The same month, he also introduced a bill to change the definition of obscenity under the existing Communications Act of 1934; if it passes, Axios noted, it could criminalize online porn and thus harm sex workers.