Realtors say these 40 mistakes make your home way less appealing
Easy fixes that make your home look better.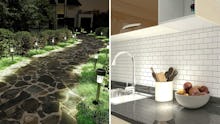 Amazon
We may receive a portion of sales if you purchase a product through a link in this article.
You might not have thought that those intricately patterned drapes are making your space feel tiny or that those holes in the wall seriously bring down the vibes. That's why we've reached out to realtors to have them weighed in on mistakes that make your home less appealing.
With just a few of these fixes, you can help your space feel larger, tidier, and more inviting. Best of all, it won't cost you a fortune either — almost all of these solutions are less than $40.