42 things that dramatically improve your dog's life for under $25
We only recommend products we love and that we think you will, too. We may receive a portion of sales from products purchased from this article, which was written by our Commerce team.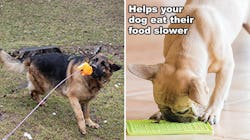 Amazon
If you're reading this, there's a pretty good chance your dog is your best friend. Unfortunately, your pup won't appreciate a "Best Friends" necklace or a shared secret fort quite the way your fourth-grade best friend did, so I've gone to the work of finding things that dramatically improve your dog's life in ways they can really understand. The best part? They're all under $25 (so you can get a whole bunch and really spoil your pup).
This list is jam-packed with canine favorites, like chew toys that dispense treats one at a time, plush squeakers that bring tons of comfort and fun, and an obedience-training leash that's extra long, so your dog can explore the great outdoors and learn to respond when you call them back. And there are finds that'll make your life better, too — think: these pre-moistened wipes that reduce dander and freshen up smelly dogs between bath days, and these fan-favorite pill pocket treats that make it so much easier to give your dog medicine.
Your dog probably already has an idea of just how much you care, but it doesn't hurt to remind them now and then. After all, you just might get some enthusiastic tail wags out of it.