60 cheap things you'll use for years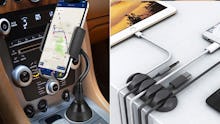 The word "cheap" is often associated with flimsiness and poor quality, but it can also just mean that something is "affordably priced" — which is the case with all of these cheap products on Amazon that are so useful and durable, they'll end up lasting you for years to come.
This list is packed with helpful products for all areas of your life. For example, there are a fair few affordable kitchen upgrades, like reusable bamboo towels that reduce your one-use paper towel consumption, as well as highly rated silicone baking cups that will change the way you make cupcakes and muffins. Or, to maximize counter space, check out these stackable food storage containers for your pantry or this roll-up dish drying rack that fits over your sink.
I've also dug up some great finds for your car. After all, Americans spend an average of 18 days driving per year, so it's worth it to trick out your ride with inexpensive but useful things like a a smartphone mount that fits in your cupholder or a mini essential oil diffuser to keep you chill in traffic. Once you've tried the products on this list, you'll never go back to your old ways (and since these items are built to last, you won't have to). I've included a ton of helpful Amazon products for every area of your life that prove you don't have to sacrifice quality for a low price.