Kanye's first ad for president is incredibly strange and very religious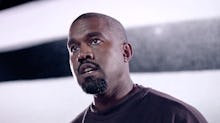 (Screenshot via kanye2020.country)
For some reason, Kanye West is still campaigning for president. And on Monday afternoon, just 22 days before the election, he dropped his first political ad. The roughly one-minute video features the rapper expounding on his vision for a brighter tomorrow in America, and his game plan basically boils down to the power of prayer.
"America. What is America's destiny? What is best for our nation? Our people? What is just? True justice? We have to think about all these things together as a people. To contemplate our future, to live up to our dream, we must have vision," Kanye says in the commercial. "We as a people will revive our nation's commitment to faith, to what our constitution calls the free exercise of religion, including, of course, prayer," he said. "Through prayer, faith can be restored."
Not to nitpick, but the video is fairly incoherent; other than "faith and family will save us all" there's not much of a message to be extrapolated here. The ad also seems like it was thrown together on the fly: it features West green screened onto a background of a black-and-white American flag, interspersed with random stock footage of firefighters, a spacecraft entering Earth's orbit, and a guy tending to his greenhouse. The ad also contains childhood photos of West with his family.
"We have to act on faith with a sure knowledge that we are pursuing the right goals and doing the right things. We will build a stronger country by building stronger families," the campaign ad continues. "Families are the building blocks of society, of a nation. By turning to faith, we will be the kind of nation — the kind of people — God intends us to be."
The short spot ends with text encouraging folks to vote for West as a write-in candidate. The rapper also tweeted about "friends writing [him] in" on Monday and shared a photo of a ballot with his name added to it.
Listen, ever since Ye announced his longshot bid for the White House in July — and then immediately began missing deadlines to get on the ballot in major states — it's been a distraction from the real race unfolding between Donald Trump and Joe Biden. There's still concern that his candidacy could siphon votes from either side, making West little more than a spoiler candidate. So, while it pains me that I have to say this, please don't write in Kanye West for president. The future of democracy hangs in the balance.