Netflix is making an original series about Spotify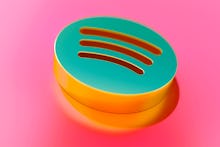 Shutterstock
This is one streaming service crossover that boggles the mind.
Netflix announced today that it's developing an original scripted series about the rise of Spotify, from its humble beginnings as a Swedish start-up to its dominance of the streaming music market.
The Swedish and English language series will dramatize how Spotify co-founders Daniel Ek and Martin Lorentzon helped revolutionize the music industry by offering free and legal streamed music to people around the world. Netflix described the Spotify series as "a story about how hard convictions, unrelenting will, access and big dreams can help small players challenge the status quo by evolving the way we can all listen to music."
From what we can glean from the press release, Netflix is approaching the Spotify tale as a homespun Swedish success story. The show description alone frames Ek and Lorentzon as saviors of an entire industry. "At the height of piracy, established heavy-hitters were fighting against where the turbulent music industry was heading," it begins, framing the dudes behind Spotify as scrappy prophets who were savvy enough to manifest a utopian, equitable, free music-filled future.
What the press release doesn't address is whether the Netflix series will touch on the criticism leveled at Spotify, namely that it undercuts artists by paying them royalties based on their "market share" — how many times their songs are streamed on Spotify as a proportion of all the songs streamed on the platform. These days, musicians make the bulk of their money from touring, not the music they record.
The director of the forthcoming show, Per-Olav Sørensen, acknowledged he has a unique challenge ahead of him: he's telling the story of a company that's still evolving. "It is an ongoing fairytale in modern history about how Swedish wiz kids changed the music industry forever," Sørensen noted in the press release. "The story is truly exciting and challenging. Challenging because the Spotify story has not ended yet — it is still running with high speed and will probably change while we work on the project."
I'm imagining the series will feel a lot like The Social Network, but less critical and with major Spotify spon-con vibes. Perhaps there'll be parallels with another Netflix scripted series about an IRL startup, Girlboss, which was about Nasty Gal CEO Sophia Amoruso's online clothing empire and only lasted one season. I doubt Netflix will infuse its new Spotify show with any of the sociopathic scheming we see on Succession… If that's the case, a fawning show about Spotify honestly sounds boring.