Singer Jasmine V Wants to Help Lead Her Generation's Fight to End Domestic Violence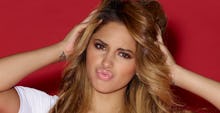 R&B singer Jasmine V is on the verge of superstardom thanks to a hot debut single, "That's Me Right There," featuring rapper Kendrick Lamar. But it's her honesty about her experience with domestic violence that makes this outspoken pop star stand out in a field crowded by up-and-comers.
Jasmine Villegas, now 20, is from the Bay Area but has been in the music business a long time: She signed her first record deal on her 12th birthday. Villegas had some breakout success in modeling and acting early on, although it was her role as Justin Bieber's love interest in his megahit "Baby" video that really launched her career. Jasmine went on to open for the Biebs on his My World tour in 2010, and the two were briefly involved, a relationship captured memorably by TMZ.
However it was a different boyfriend, a physically abusive one, who would affect Villegas' life far more than her and Bieber's kiss heard round the world. In 2012, Villegas used her experiences dealing with an abusive boyfriend (she was only 17 at the time) to speak out about teen dating violence. Her attack was thrown into even sharper relief in the music video, "Didn't Mean It," which reenacts in graphic detail an assault on Villegas by her fictional video boyfriend.  
Like so many others, the teen initially kept the abuse to herself, concealing the violence from friends and family until she couldn't hide the bruises and swollen lips any longer. The final straw came when her abusive ex threw a table at her, shattering a window and alerting a good samaritan.
It would be a life-changing moment in more ways than one.
"What I went through is something nobody deserves to go through," Villegas told Mic. "I made a decision to make a positive from a negative and give people an outlet and a voice to get out of it. I know how hard it can be and how alone you can feel when you're in that situation." At the end of "Didn't Mean It, Villegas posted the number of the National Domestic Violence Hotline, and calls increased by 54% the day of the video's premiere.
Villegas told Power 105.1's Breakfast Club that watching the second Ray Rice elevator video brought up some raw emotions, but it's important that people realize how common domestic violence is. "It's crazy to see how many people go through it," Villegas told Mic.
While Beyonce and Taylor Swift may be getting a lot of attention for talking about feminism, Villegas' openness about a taboo subject like domestic violence has led to tangible results, as evidenced both by the impact of her music video and the feedback from her fans. 
But domestic abuse awareness isn't her only campaign.
With #GamerGate and the terroristic threats leveled against video game critic Anita Sarkeesian making headlines lately, cyberbullying is once again a high-profile topic of discussion. While dating Justin Bieber, Villegas said she, too, felt the sharp sting of cyberbullying from his devoted "Beliebers" — some of whom even sent death threats.
"Being on tour with Justin and being in his 'Baby' video definitely helped me gain fans, and I am forever grateful for it," she told Mic. "[But] the cyberbullying was definitely tough ... At first, the harsh comments would bother me, but you have a choice whether to look at it or not. You can't please everyone and the sooner you learn that, the less you'll feel hurt by comments from people that don't know you."
Clearly, Bieber's former girl crush has come a long way. A singer in her own right — she told Mic she styles herself after Alicia Keys — Jasmine V is positioning herself as an example of female empowerment in a music industry far too often bogged down in misogyny.
"You wouldn't believe how many of my fans have reached out to me telling me how I helped them, their friends or their moms just because I gave them a number and courage to get out," Jasmine V said. As Americans mark Domestic Violence Awareness Month this October, her story stands as an example of the power that comes from standing up against your abuser and saying, "Never again will I suffer in silence."