America Could Learn a Lot From How Japan Listens to Music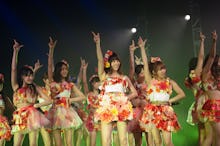 Ask anyone who follows music and they'll tell you that nobody buys music anymore — that artists are starving and art is dying. Everywhere, you'll find pessimism.
But contrary to popular belief, this isn't a universal trend: Japanese fans still buy music. According to the New York Times, 85% of all music sold in Japan in 2014 came on CDs, compared with 57.2% in the U.S. In 2006, Tower Records stores all across the U.S. went bankrupt. In Japan, they still bring in $500 million annually.
This means that artists are actually valued in Japan — and it's because they think of music differently.
Image Credit: Getty Images
The situation in America is dire. Economists project that piracy costs us somewhere around $58 million to $200 billion. Even when we go legal, we prefer to pay close to nothing. American audiences prefer streaming music — via apps like Spotify — which generates negligible revenue for artists compared with CD sales. Folk rock musician Damon Krukowski concluded last year that one of his songs would have to be played over 40,000 times to match the money he would get from an album sale. Free music is nice. Broke artists? Not so much.
But the New York Times reports that, in Japan, a protectionist business atmosphere discourages, for better or worse, disruptive technology like Spotify. Where we build shrines to our entrepreneurs, Japan's business victories are often concentrated in traditional business channels, which were painstakingly built up following post-World War II economic devastation. As a result, services like Spotify and Rdio have failed to get contracts in the country — and many albums don't even have digital releases.
But it isn't just the business culture — Japanese artists do an exceptional job of engaging their fans. Take AKB48, Japan's reigning girl group. Their most recent album has gone platinum largely because the CD comes with a voucher that gives fans the chance to shake hands with the girls (of which, as the name may imply, there are 48). Some also come with a ballot that allows fans to vote for the MVP of the month, giving them yet another way to engage.
This "is an added value you can't get through pirated music, iTunes or YouTube," wrote former Chief Cabinet Secretary Yukio Edano in an essay praising the group's business model as an example for the country. Buying a CD is a way to be an actual fan.
It's not as if American pop stars don't cater to fans in similarly creative ways — it just isn't the norm. Taylor Swift is a good example of how American artists think of selling records. She's about to land a historic first week of sales but only with the help of a CIA-level degree of secrecy and a staunch refusal to stream.
That isn't the way forward. It takes an audience that's willing to value music — that's one thing Japan has that America doesn't always. But it also takes artists like AKB48 in Japan or Beyoncé and Run the Jewels who are willing to sell you again, who can convince you that music still matters. Only then will we have a thriving musical culture once again.