What 11 Highly Successful People Were Doing in Their 20s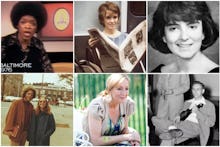 Let's face it: Your 20s suck.
No matter what generation you're in, your 20s are likely the formative decade of your life, filled with self-development, risks and failures. And for today's crop of 20-somethings, things are just as bad: With student debt exploding and job opportunities scarce, the class of 2014 is the most indebted generation of college graduates in history. And their futures look dim: Some 14% of people ages 25 to 34 live with their parents.
With the U.S. economy gradually rebounding from the recession, it's hard for young people not to feel stuck. But luckily, it's not just them: While this generation is peppered with Mark Zuckerbergs and Lena Dunhams who achieved major success while the rest of us slave away, it's important to remember that some of the world's most successful people slogged away through their 20s before they hit it big.
To wit, here's what 11 highly successful people were doing in their 20s.
1. Amazon founder Jeff Bezos was flipping burgers at McDonald's.
Jeff Bezos, the founder and CEO of Amazon and apparent savior of the Washington Post, got his professional start as a 'grill man' at McDonald's during a summer in his youth.
According to author Cody Teets, who asked Bezos about his time at McDonald's for her book Golden Opportunity: Remarkable Careers That Began at McDonald's, the executive wasn't very good at his job: He never even made it up to manning the cash registers.
"My first week on the job, a five-gallon, wall-mounted ketchup dispenser got stuck open in the kitchen and dumped a prodigious quantity of ketchup into every hard-to-reach kitchen crevice. Since I was the new guy, they handed me the cleaning solution and said, 'Get going!'" Bezos told Teets. "I was a grill man and never worked the cash registers. The most challenging thing was keeping everything going at the right pace during a rush."
2. Billionaire Warren Buffett was a small-time salesman.
After graduating with a degree from the University of Nebraska, Buffett worked as an investment salesman for Buffett-Falk & Co. in Omaha before moving to New York to be a securities analyst at age 26.
After getting his master's in economics at Columbia University and working as an analyst on Wall Street, Buffett returned to Omaha to start his investment partnership, Buffett Partnership Ltd., after being persuaded by friends and family. His success with the partnership launched Buffett to the helm of Berkshire Hathaway, which he transformed from a textile company into the massive conglomerate it is today.
Despite becoming one of the most successful investors of the 20th century, Buffett kept his roots in Omaha. "In some places it's easy to lose perspective," Buffett told NBC. "But I think it's very easy to keep perspective in a place like Omaha."
3. Hillary Clinton was putting in her time at law school.
Hillary Rodham was destined for public service well before she met future president Bill Clinton. As a student at Yale Law School, she worked at the Yale Child Study Center, took on cases of child abuse at Yale-New Haven Hospital and volunteered at New Haven Legal Services to provide free legal advice to the poor, as reported by Business Insider.
The future secretary of state stayed at Yale an extra year to be with boyfriend Bill, who she met at 23, and received her Juris Doctor in 1973. That same year, she began working at the Yale Child Study Center. Her first academic article, "Children Under the Law," was published in the Harvard Educational Review in late 1973, when she was 25. The article, which discussed the then-fledgling children's rights movement, became highly cited in the field.
4. Business magnate Mark Cuban was fired and lived with five other dudes.
The investor, founder of MicroSolutions and Broadcast.com and owner of the Dallas Mavericks, wasn't always wealthy. In his book How to Win at the Sport of Business: If I Can Do It, You Can Do It, Cuban describes being fired from a PC company for "not telling anyone he was going to lunch to try to close a deal." At the time, he was living with five other guys in a three-bedroom apartment. Cuban didn't even have a bed.
"[My former boss] had a huge flaw: He never did the work," Cuban wrote for Forbes, describing his firing as a defining moment in his professional career. "He never demonstrated the initiative to go out to sell. I had realized by that time that 'sales cures all.' That's a phrase I still use to this day. He was my mentor, but not in the way you'd expect. Even now I think back to things he did, and I do the opposite. And he made me superstitious about titles. I'm never listed as the CEO of my companies. There is no CEO. I am the president."
5. Feminist icon Wendy Davis was a broke single mother.
Texas State Sen. Wendy Davis, best known for her 11-hour filibuster of a bill restricting abortion rights in June 2013, wasn't always on track for public service. In her early 20s, she was a divorced, young mother who had to drop out of the University of Texas at Arlington due to financial burdens. Davis worked as a waitress and a receptionist until she married her second husband and enrolled in community college.
In an interview with the New York Times, Davis — who's served in city and state government positions for more than 14 years — discuss the impact those early struggles had on her life. "I had a lot of insecurities about not having done enough with myself," she said. "And I remember so vividly, when [my husband] would talk to peers and they would talk about, you know, their education or their travels, fine wines or foods, I just felt so left out of those conversations. And I had a little bit of a chip on my shoulder about it. And so I wanted to prove to myself, more than anything, that I could be one of those people, too. I could get an education like that, too." 
Davis went on to attend Harvard Law School with her daughters in tow. She ran for governor of Texas in 2014, only to lose by a 20 point margin.
6. Comedy writer Tina Fey was a child care administrator at a YMCA.
Tina Fey was a self-described "drama geek" in college, but it took years after she graduated from the University of Virginia to break into comedy writing.
While she was starting out, Fey worked as a child care registrar at Chicago YMCA after graduation and hung around actors workshops before the acclaimed improv and sketch troupe Second City invited her to join in 1994, Business Insider reported.
It was a case of being in the right place at the right time. Fey told the New Yorker that she joined Second City because she "knew it was where a lot of SNL people started." She started sending scripts to Saturday Night Live producer Lorne Michaels, who eventually hired her as a writer in 1997 and helped launch her comedy career.
7. Legendary designer Ralph Lauren was making ties on the side.
Ralph Lauren had to change his name to break into the business world. Born Ralph Lifshitz in the Bronx, New York, he changed his last name at 15. "My given name has the word 'shit' in it," he told Oprah Winfrey. "When I was a kid, the other kids would make a lot of fun of me. It was a tough name. That's why I decided to change it."
Despite his childhood ambition to become a millionaire, Lauren dropped out of Baruch College after two years of studying business. He served in the army until the age of 24 before leaving to work for Brooks Brothers, his first foray into the garment industry, according to Business Insider.
At 26, after being inspired to design a wide, European-style necktie he saw actor Douglas Fairbanks Jr. wearing, he left Brooks Brothers to establish his own company working out of a drawer in the Empire State Building, taking rags and turning them into ties, an effort that led to an opportunity with Neiman Marcus. Lauren eventually opened a necktie store where he also sold ties of his own design, under the label "Polo."
8. President Barack Obama was a community organizer.
After graduating from Columbia University in 1983 with a degree in political science, Obama moved to Chicago where he reportedly helped rebuild low-income communities on the South Side that had suffered as a result of local steel plant closures, as Mic's Rosa Heyman wrote last year. He helped set up a job training program, a college preparatory tutoring program and a tenants' rights organization in Altgeld Gardens, a public housing project on the South Side.
Obama did his fair share of mid-20s soul-searching. Before enrolling in Harvard Law School in 1988 at age 27, Obama joined the Trinity United Church of Christ in Chicago and traveled for five weeks in Kenya, where he met many of his paternal relatives for the first time.
"For a long time I sat between the two graves and wept," Obama said. "I saw that my life in America — the black life, the white life, the sense of abandonment I felt as a boy, the frustration and hope I'd witnessed in Chicago — all of it was connected with this small plot of earth an ocean away."
9. Author J.K. Rowling was fired while daydreaming about Harry Potter.
Joanne "Jo" Rowling was just 25 years old when she came up with the idea for boy wizard Harry Potter while stuck on a delayed train ride in 1990, according to Business Insider.
At the time, Rowling was working as a secretary for the London office of Amnesty International, but she was eventually writing chapters on her work computers and daydreaming about Harry Potter, which her severance check would help her focus on for the next few years.
According to J.K. Rowling: The Wizard Behind Harry Potter, Rowling didn't have an easy time making her dreams a reality. After being fired, Rowling was married, divorced, had a child, endured the death of her mother and was diagnosed with clinical depression, all while living in relative poverty. She finished the first book in the series in 1995, and Harry Potter and the Philosopher's Stone was published in 1997.
10. Lifestyle guru Martha Stewart was a stockbroker.
Before her name became synonymous with lifestyle and design in virtually every household across America, Business Insider reports, Martha Stewart worked on Wall Street for five years as a stockbroker at the boutique firm of Monness, Williams & Sidel.
"There were very few women at the time on Wall Street … and people talked about this glass ceiling, which I never even thought about," Stewart said in an interview for the Public Broadcasting Service's MAKERS series. "I never considered myself unequal, and I think I got a very good education being a stockbroker."
In 1972, Stewart left Wall Street to be a stay-at-home mom in Westport, Connecticut, but after the Stewarts restored the 19th century farmhouse they had bought, Martha decided to focus her energy on gourmet cooking. She started a catering business in the late 1970s, and after training herself with Julia Child's Mastering the Art of French Cooking, she rapidly grew her business with her characteristic gourmet menus and creative presentation.
11. Oprah Winfrey was fired from her job as a news anchor.
Before she was the queen of daytime television, Oprah packed bags in a grocery store to support herself while on a full academic scholarship at Tennessee State University.
Winfrey's first foray into media didn't go very well: She was fired from her job hosting the 6 p.m. news slot at Baltimore's WJZ-TV in 1977 before being recruited to co-host WJZ's local talk show "People Are Talking" in 1978 at age 24.
"I had no idea what I was in for or that this was going to be the greatest growing period of my adult life," Winfrey told the Baltimore Sun in 2011 of her arrival in the city. "It shook me to my very core, and I didn't even know at the time that I was being shaken."
Winfrey remained in Baltimore throughout her mid- to late-20s, until moving to Chicago in 1983 to host A.M. Chicago for WLS-TV, where she found her footing as a talk show host.
Update: This is an update of a post originally written for Mic by Laura Franta-Abdalla.