The Silk Road is Getting the Movie Treatment, and We Couldn't Be Happier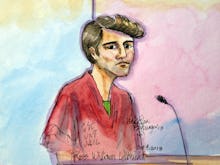 The rise and fall of the now infamous online drug operation, Silk Road, will be turned into a movie. The film will be written by Dennis Lehane, the man behind Scorsese's thriller, Shutter Island. For those of you that follow the news, you've already read about the website and its creator, Ross William Ulbricht — aka "Dread Pirate Roberts" — getting shut down by the FBI, and that's great. For those of you who, like me, are inclined to New Girl recaps and celebrity Twitter feuds, this movie deal is especially great news.
While the plot of the movie will focus on the rise and fall of Silk Road, a giant online marketplace for illegal substance, the focus will be on how Ulbricht became a digital drug kingpin. What's the ceiling on creative license here? Blow meets The Social Network? Can the original "Dread Pirate Roberts" play an old-school FBI agent who remembers when drug dealers hid in crummy apartments, not encrypted messaging systems? Will there be any anti-hero monologues in which Ulbricht argues for a more democratic internet?
Only time will tell. One thing is clear, however: Hollywood knows what the people want. And they didn't waste any time in slapping this deal together. Shout out to Fox Studios for scooping up this story for our cinematic consumption. Is anyone else as excited as I am for this movie?