8 PolicyMic Pundits Making Waves Across the Media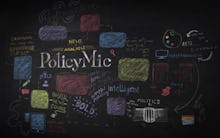 Sure, our writers like to hear from us about how well they're doing on PolicyMic. But sometimes it's nice to hear from other media outlets about how great an article is —  (kind of like when someone besides your mom gives you a compliment).
We get it, which is why we're proud to feature a monthly round-up of other media outlets where our pundits make their mark.
Below is but a mere sampling of the places PolicyMic-ers made headlines this month. Congrats to ALL of our community members who've been highlighted across the web.
If you've been mentioned elsewhere, please let us know so we can brag about you.
Email me (caira@policymic.com) (Subj: PolicyMic Press Mention) with a name of the publication and link to the article, and we'll try to include in our next press mention round-up.
1. Christian Rice, The Big Picture (October 3)
Georgetown student and PolicyMic superstar Christian Rice joined RT TV to weigh in on the government shutdown and Obamacare. This was PolicyMic's first appearance with commentator and host Thom Hartmann on The Big Picture.
2. Melissa Hugel, Salon (October 11)
Salon proudly featured Melissa Hugel's perspective on the problem with rape revenge films, and the danger inherent in using "rape as an emotional catalyst for a female hero's journey."
3. Tracey Vitchers, MSNBC (October 8)
After Tracey's excellent article on the shutdown's effect on campus sexual assault appeared on PolicyMic, MSNBC quoted her in a reference to Students Active For Ending Rape (SAFER). 
4. Autumn Harbison, Salon (October 17)
Autumn took her arts + entertainment savvy to Salon, with a piece on Noah Webster's legacy in honor of (what would have been) his 255th birthday.
5. Jayson Flores, Bitch Media (October 15)
Jayson was on Bitch Media's radar for National Coming Out Day, and his discussion of what it means to come out when everyone already knows you're gay.
6. Jewelyn Cosgrove, Retweeted by Jason Nazar (October 13)
Forbes author Jason Nazar mentioned Jewelyn's piece on millennial advice-givers to his nearly 12K followers (after he'd given some millennial advice of his own).
7. Natalie Smith, Think Progress (October 17)
Natalie Smith made waves at Think Progress with her piece on new voter ID laws in Texas, and the anticipated impact on women's rights.
8. Dani Paradis, Retweeted by Dan Savage (October 13)
Dani Paradis poignantly explained how much more there is to bisexuality than the cheerful unicorn types depicted on TV, and Dan Savage gave her her a shout out on Twitter.