Robin Roberts Came Out, Making Us Happy and Sad All At Once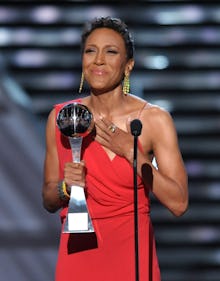 The news: On Sunday, Good Morning America anchor and former ESPN sportscaster Robin Roberts came out through a heartfelt message on Facebook. Roberts, a cancer survivor who received a life-saving bone-marrow transplant from her sister, newscaster Sally-Ann Roberts, last fall, thanked her family, friends, doctors, and nurses for their support, expressed appreciation for viewers' prayers and good wishes, and publicly conveyed gratitude for her girlfriend of 10 years, Amber Laign.
She concluded by saying, "On this last Sunday of 2013, I encourage you to reflect on what you are grateful for, too."
The two sides of this story: Roberts' highly personal message is evidence of both America's changing attitudes toward gay rights and marriage — especially among younger people — and of the hurdles that still remain to be overcome.
2013 was, in many ways, a huge year for LGBT rights in the United States. The Supreme Court struck down the discriminatory Defense of Marriage Act and California's Proposition 8, and gay marriage became legal in eight additional states (the last two court decisions, in New Mexico and Utah, came in just before Christmas). West Point and Fort Bragg hosted their first gay weddings, NBA player Jason Collins became the first openly gay professional athlete, and trans* rights were increasingly addressed by mainstream LGBT organizations.
However, as encouraging as Roberts' candor is, there remains something absolutely heartbreaking about the fact that though she felt comfortable sharing with her audience some of the most intense personal struggles an individual can endure — namely her treatment first for breast cancer, which is discussed in the video below, and then myelodysplastic syndrome, a blood disease caused by chemotherapy — she did not, until now, feel comfortable discussing the person she loves, and who supported her throughout.
What this means for the LGBT community: Despite what some popular campaigns may have you believe, coming out is a process that individuals must undergo not once, but repeatedly and in many different circumstances throughout their lives. While public figures like Roberts — or Collins, or Anderson Cooper, or Neil Patrick Harris, or Ellen DeGeneres — are absolutely entitled to their private lives, they also have the ability to put a familiar and human face on LGBT struggles, and provide a counterpoint to the sort of bigotry or that too easily dominates the public discourse. 
As Roberts says in the above video, which discusses the journalist's choice to document her breast cancer treatment, "We just kind of went with it. I went with my gut, and what I felt was right, and what I should share, and what I should not share. If you work in morning television, there is an intimacy … and I didn't want them to hear it from anyone else."
We can only thank Roberts for once again going with her gut, wish her continued health and success, and hope that she isn't reduced to her sexuality in the eyes of her viewers — after all, earlier this year, she became the first journalist since Walter Cronkite to receive a standing ovation along with her Peabody Award. 
In the words of First Lady Michelle Obama: