New Year's Resolutions From Hip Hop's Elite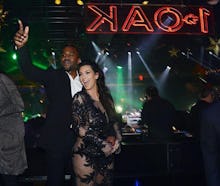 2013 was a hugely entertaining year in hip-hop news. Kanye sparred with a different interviewer seemingly every week after the Yeezus release, creating even more priceless Kanye quotables: "You ain't got the answers, Sway!" Miley Cyrus was honorarily inducted into the trap community by rappers Juicy J, Future, and producer Mike Will Made It (apparently Miley and Made are now dating). Two self-proclaimed rap gods, Eminem and Jay-Z, staged comebacks that seemed hot at first, but quickly cooled out to room temperature. Earl Sweatshirt and Chance the Rapper released some incredible weirdo rap. Lil Wayne had a bunch of seizures but is still kicking it. Good memories all around. 
2014 has the potential to be just as debauched and entertaining. Certain rappers are poised to make some big career moves, and it'll be exciting to see how those go over. I realize it's somewhat presumptuous to suggest a New Year's resolution for another person, but I'm going to do it anyway, because this is democracy dammit, and we can question our leaders.
If the following rappers adopt the following resolutions I've come up with, they will have incredibly memorable years, and we will all profit.
1. Kanye – "Keep being an ass, but with a little more tact."
Kanye is on the right track. He has already made his own New Year's resolution, and it's a bold one. At his last Yeezus tour stop, West pledged he would stop talking shit for six months. The precise timetable shows some true knowledge of self — a whole 12 may have been a little ambitious.
In six months, Kanye will be ramping up for the September release of his new Adidas shoe line and chain of stand-alone stores. He will most likely have to express his frustrations with someone in Adidas management, or NYC Fashion Week during that high-stress time.
June will also be the perfect month to release some summer bangers off a Yeezus follow-up. And as we all saw this year, his shit-talking "supreme overlord of all things culture" persona is an effective marketing tactic: It generated all that buzz around Yeezus and helped win him win that aforementioned shoe line. Laying low for six months will also allow pop culture to recharge its tolerance for Kanye's extravagant metaphors and Walt Disney comparisons. The break will help give Kanye's words more weight when he returns in the second half of 2014.
2. Kendrick Lamar – "Solidify your legacy and become the Beyoncé of hip-hop."
Kendrick Lamar's "Control" verse set the hip-hop community ablaze. In the week following its release, 16 rappers cut verses to respond. Kendrick got rappers riled. He got others tamed. If he's going to keep his stranglehold on the game, he's going to have to keep coming with that fire. 
Lamar announced he would start recording his new album when he returns from the Yeezus tour­­ — today basically. Lamar broke a lot of new ground on his previous good kid m.A.A.d. city. It still sounds as fresh as the day it came out. How will he top that epic, immersive, autobiographical masterpiece?
An easy answer: Marketing and distribution. This is the new grail. Clever tactics pushed Beyoncé, Yeezus, and Jay-Z's Magna Carta Holy Grail into the record books, making up for all of what those albums lacked in precision and depth. Experimenting with similar innovations will help Kendrick generate whatever heat he loses in the transition from conceptual epic to standard banger, and will help cement his position as the most innovative MC in the game.
3. Drake – "Man up and face the music."
Though Drake has tried to reassert in numerous interviews that he is above the confrontational squabbles of the rap game, it is clear he was hurt by the barbs Kendrick Lamar threw out on his "Control" verse and BET cypher.
Drake said in his recent Vibe cover story that: "I never once felt the need to respond to that record ... Jordan doesn't have to play pick up to prove that he can necessarily play ball, no offense." First thing to say about that: saying "no offense" doesn't make what was said not offensive. That's some high school Mean Girls trash. Second: Drake has responded to that record. He took veiled shots at Kendrick on "The Language" and even more direct ones on the Future's "Sh!t" remix.
Drake's holier-than-thou mentality and behind-the-back sneak disses are part of the list of reasons the Toronto kid has struggled to gain the full respect from a lot of the core hip-hop community. It's clear Drake desires this recognition, and if he wants to get it, he's got to show more love for hip-hop culture. If you feel offended, Drake, face the music and address the conflict, rather than trying to act above it while sneaking snark-heavy disses into interviews and songs. 
4. Outkast – "Reconnect with old friends."
Big Boi posted the above Instagram shot with Andre 3000 clowning around outside the Phillips Arena in Atlanta and almost immediately the internet exploded with reunion rumors and Outkast love. I'm not trying to get everybody's hopes up or anything, but it is clear hip-hop is ready for the return of the "G".
The pseudo comebacks of 2013 were not all that awe-inspiring. But Outkast will be different. Jay-Z and Eminem never pushed boundaries as artists, as much as set boundaries for what successful hip-hop should sound like. Outkast has always been in the vanguard, bringing new sounds, genre fusions, and flows to the table. 
This spirit of experimentation will allow their comeback to make an impact on rap the way no other comeback album did in 2014.
5. Missy Elliot – "Give the people what they want."
There are going to be a lot of female MC releases in early 2014. Missy Elliot's Block Party, which has been teased for the past seven years, has not been confirmed amongst them, but there is a significant possibility 2014 may be the year.
The reasoning: Timbaland, Missy's longtime collaborator and the main producer on Block Party, is on a hot streak, coming off his work on Justin Timberlake's The 20/20 Experience. Timbaland's sound is more relevant now than it has been in years. The Misdemeanor herself is also up for a Grammy for her feature and songwriting credit on Fantasia's "Without Me." A win there may whet her appetite for a round of album promotion. Not that the Grammys mean all that much anymore.
Just put out the album Missy and show these up-an-coming females how a boss lady raps.