Golden Globes 2014 Recap: 8 Major Wins for Women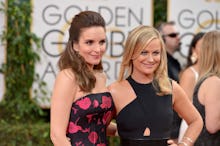 Hollywood can often be a pretty terrible place for women. But with the fabulous Tina Fey and Amy Poehler taking the reins as hosts of this year's Golden Globe Awards, there were bound to be plenty of kick-ass moments for ladies throughout the show. Here's a roundup of the best of the night.
1. Tina Fey jokes about age-ism in Hollywood
Fey and Poehler's opening speech was full of jabs at industry sexism, like when Fey alluded to the pathetic lack of film roles for older women: "There are still great parts in Hollywood for Meryl Streeps over 60."
2. Elisabeth Moss flips off the mani-cam
Someone finally gave a big old eff you to the silliest camera on the red carpet, and it was glorious.
3. Fey calls out double standards for actresses
Fey kept the punches coming during the opening speech when she said, "For his role in Dallas Buyers Club [Matthew McConaughey] lost 45 pounds, or what actresses call 'being in a movie.'"
4. Amy Adams proves she's one strong mama
Amy Adams pointed a stern finger at the camera during her acceptance speech for Best Actress in a Comedy for American Hustle. She said, "You cannot play me out of talking about my daughter." Who says women can't have it all?
5. Amy Poehler as Randy, Mr. Golden Globe
The whole concept of a "Miss Golden Globe" — the (almost always female) child of celebrities who gets dolled up and stands on stage for no other purpose than to hold things for people — has always rubbed me the wrong way.
Fey and Poehler flipped the gendered tradition on its head this year. After Kyra Sedgewick and Kevin Bacon introduced their daughter Sosie Bacon as this year's Miss Golden Globe, Poehler came out as Randy, Fey's "adult son from a previous relationship" and this year's Mr. Golden Globe. Score one for gender equality.
6. 'Frozen' wins Best Animated Film
Despite being unfairly shut out for Best Song, Frozen rightly managed to nab the Best Animated Film award, beating The Croods and Despicable Me 2. The movie has been called "the feminist fairy tale we've been waiting for," and has not one but two strong female leads. It passes the Bechdel test with flying colors.
7. Amy Poehler wins Best TV Actress in a Comedy for 'Parks and Rec'
Poehler finally took home a statue for her portrayal of Leslie Knope, everyone's favorite public servant and unapologetic feminist icon from Parks and Recreation.
8. Bing celebrates the heroic women of 2013
I know, I know — this wasn't an actual part of the Globes. But Bing's commercial did air during the show, and paid tribute to some of the most inspiring female figures in recent history like Malala Yousafzai, Gabrielle Giffords and Diana Nyad. It was almost even more heartwarming than Amy Poehler's acceptance speech.