The 14 Most Badass Moments of the 2014 Grammy Awards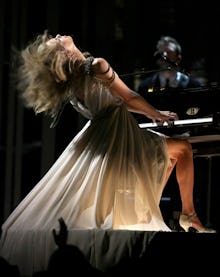 The Grammys surprised everyone this year. The Internet was eagerly awaiting a televised musical catastrophe, but what we got instead was a fun (albeit eternal) diva-licious concert with a few awards thrown in for good measure. In addition to some musical memories, we were gifted with some of the fiercest, most independent and most badass televised moments 2014 has seen. Let's take a look at the top 14 that proved why music's biggest names are music's biggest names. 
1. When Giuliana Rancic asked Wiz Khalifa the most asinine question ever and he replied just like Wiz Khalifa should.
He opened up the night just beautifully. 
Question: What is the secret for making you perform at your best? 
Answer: Staying highly medicated. 
2. When the whole world was making fun of Pharrell's hat and he didn't care. At. All.
He may have been dressed like Smokey Bear, but he had the last laugh. He took home two Grammys — Record of the Year and Producer of the year. 
3. When Jay-Z and Beyoncé made opening the Grammys look easy.
They performed "Drunk in Love" and they did it like the musical royalty that they are. They also simultaneously made every other married couple on planet Earth look and feel and sound incredibly boring. 
4. When Lorde did exactly what she felt like in front of the entire world.
Lorde performed "Royals" in front of basically the entire world, and proved (yet again) that being a badass 17-year-old female pop star does not have to mean being glittered, sexualized or candy-colored. 
5. When Keith Urban and Gary Clark Jr. made absolutely beautiful music together.
Country singer Keith Urban teamed up with guitarist Gary Clark Jr. to perform "Cop Car." They finally gave a definitive answer to any ongoing debates about whether or not country music is lame. 
6. When Taylor Swift reminded us of the power of the hair flip.
She performed her song "All To Well" perfectly, but it was her powerful sequence of hair flips that proved young Swift can never-again be a considered a flash-in-the-pan ingenue. She is a fully-fledged diva now, and she owned that stage.  
7. When Pink flew over the audience and didn't even use a harness.
She was literally flying over the audience, singing songs, and dangling by her feet. We've come to expect these sorts of acrobatic shenanigans from Pink, but it kills every single time. 
8. When Kendrick Lamar gave an amazing performance, and proved just how much he should have won.
Kendrick Lamar was nominated for seven Grammys, and he took home zero. But the shutout didn't stop him from giving what was quickly dubbed by social media as one of the night's very best performances — an unexpected but brilliantly cohesive set with Imagine Dragons. Some Grammy voters are now probably reconsidering. 
9. When Paul and Ringo performed together.
To be 100% honest, the performance itself wasn't that memorable, but the fact that Paul McCartney and Ringo Starr were performing together at all definitely was. According to Rolling Stone, it's only one of a handful of times the duo has performed together. Legends. 
10. When country music awarded a young feminist icon.
Kasey Musgraves surprisingly (and brilliantly) took home Best Country Album and she may very well be the genre's least likely star. She's 25-years-old, writes her own stuff, and sings about atheism and homophobia. Her win was a wonderful coup. 
11. When Yoko Ono ... actually, just Yoko Ono generally.
Ferocity. Here she is staring her cold hard stare: 
12. When Lorde won Song of the Year for "Royals."
A song that indicts nepotism and music royalty winning Song of the Year at the Grammys? Just excellent. 
13. When Daft Punk never spoke, not one time.
Daft Punk took home four Grammys (including album of the year) yet even in the midst of their winning streak they did not break robotic character. Give them Grammys just for their pure robotic silence. 
14. When 34 couples got married while Macklemore and Madonna sang to them.
In a huge show of support for same-sex marriage, 34 couples were married during the broadcast of the show while "Same Love" was serenaded from the stage and Queen Latifah officiated. The couples came in all colors and all pairings; a bold and beautiful climax to the 56th annual Grammy Awards.