Scarlett Johansson's Impossible Waistline in This Poster Is Yet Another Attack on Women's Bodies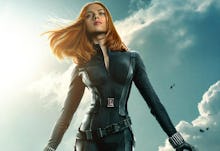 In the latest in a slew of seemingly endless stories about Photoshop manipulation, a brand new poster for Captain America 2 has Scarlett Johansson's waist looking like the size of a peanut.
Image credit: Yahoo Movies
The image is so blatantly retouched that it has ignited a firestorm of Internet backlash. Here's just a small sampling of Twitter reactions:
While Photoshop alterations are nothing new, the conversation surrounding the representation of our female stars gained more traction after the debut of Melissa McCarthy's Elle cover last year, in which the actress's larger physique was fully enveloped by a coat. And on Jan. 17, Jezebel paid a $10,000 bounty for un-retouched photographs of Lena Dunham from her March Vogue cover. This incident sparked a heated debate on the Internet about whether or not Jezebel was right to expose Dunham's image.
Another recent viral video shows the effects of Photoshop on Hungarian singer Boggie's face. And just last Friday, Nicki Minaj used Instagram to protest a Photoshopped cover of ESPN Magazine with Kobe Bryant. (A petition asking ESPN to end the retouching of celebrities and models in photos was launched and has garnered 3,200 signatures to date.)
Johansson has yet to comment on the image, but this has already been a controversial week for the actress: She decided to step down from her post as Oxfam Ambassador due to her partnership with Israeli brand Sodastream for which she did a now-banned Super Bowl commercial.