South American President Who Legalized Weed Has Been Nominated For a Nobel Peace Prize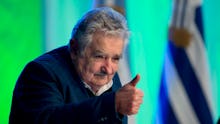 The news: José "Pepe" Mujica has been nominated for the 2014 Nobel Peace Prize. The Uruguayan president gained fame when his country became the first in the world to legalize the government-regulated sale and use of marijuana. His candidacy was submitted by his left-wing political party, Frente Amplio, and an unnamed German non-government organization, with added support from a Dutch NGO called the Drugs Peace Institute. Mujica signed the bill into law in late December 2013, despite nearly two-thirds of Uruguayans disapproving.
Supporters cite legalization as the main factor in Mujica's nomination. "I'm very thankful to these people for honoring me," he said in response. "We are only proposing the right to try another path because the path of repression doesn't work."
Image: Fusion
Who is this Mujica? "Pepe" has garnered praise for his unconventional approach to political life. Aside from spearheading Uruguay's progressive same-sex marriage and abortion laws, Mujica has rejected the typically flush trappings of the presidency for a simpler life – he and his wife live in the same house they occupied before his election, and drive a $1,800 Volkswagen Beetle. They also grow chrysanthemums together and sell them at local markets.
Mujica's move to legalize marijuana was intended to curb the influence of drug traffickers and reduce consumption. The law allows licensed and registered adults to purchase a monthly limit of 40 grams of marijuana from pharmacies, or cultivate up to six plants at home.
Other countries in Latin America have already considered versions of the Uruguay model. Argentina is debating decriminalization, while Ecuador and Mexico have considered lowering penalties for possession. Chile, where adults can legally consume drugs privately, may change marijuana's classification as a "hard drug."
"Many countries of Latin America, and many governments, will take this law as an example," said Uruguayan Senator Constanza Moreira. Time will tell the broader impact these laws will have on the region's ongoing "war on drugs."
A win for "Pepe"? Mujica's Nobel nomination certainly reflects his progressive accomplishments, but also the hope that marijuana legalization will set a paradigm-shifting example. "[This] involves a big cultural change that focuses on public health and the fight against drug trafficking," said Senator Lucía Topolansky, also First Lady of Uruguay. It is an experiment that's been lauded and criticized in equal measure. Perhaps in the near future, José "Pepe" Mujica will have the last laugh.