The 11 Best 2014 Olympic Uniforms From Around the World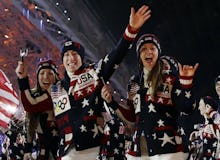 At its core, the Olympics are about representing your country. But how can you do that if you're not painted with your nation's flag? Olympic uniforms are both a representation of the nation and a sign of the times (just take a look at how America's unis have changed through the years).
This year, some countries from around the world have pulled out all the stops in coming up with the best, most eye-catching looks they could think of. Here are some the favorites. 
1. France
Chic, understated, classic — designed by Lacoste to reflect the elegance and performance the French team is going for. 
2. Germany
Vibrant and colorful, Germany will certainly be standing out in Sochi. But aside from offering a bold design, some are speculating that the rainbow uniforms are a type of silent protest against Russia's anti-gay laws.
3. Canada
Designed by the Canadian powerhouse Hudson's Bay Co., the team has gone with relatively understated black and red toggle coats. 
4. Japan
It's always business time in Japan. Roughly 100 Japanese athletes will be donning uniforms that look like they could easily transition from the Olympics to the corporate boardroom. 
5. New Zealand
These almost-menacing black and white unis are surprisingly simple and attractive. 
6. Italy
When you're uniform is designed by Giorgio Armani, you know you'll probably be looking great. 
7. Czech Republic
Although somewhat more understates than their 2008 uniforms, the Czech team is certainly not going to be hiding with this bold look. Just look at those hats.  
8. Russia
Made ever year by Bosco, the host country definitely wants you to notice their uniforms. Bright red with splashes of gold and touches of fir conjure up a traditional Russian setting. 
9. Norway
Team Norway's uniforms are pretty okay, but it's the Norwegian Curling Team whose really turning head with these dazzling — if not disorienting — get-ups. 
10. Mexico
Even though Mexico's uniform will only be worn by one person —  Hubertus von Hohenlohe, the country's only 2014 athlete — it's still pretty awesome. 
11. Jamaica
It might not seem like there's anything especially noteworthy about Jamaica's uniforms, but it's still hard to get over the fact that there actually is a real-life Jamaican bobsled team. That said, while they could have gone with a crazy colorful look, Jamaica kept it simple and understated in wintry track suits. Nice work.