#NotYourTonto Sparked an Internet Backlash for All the Right Reasons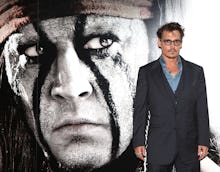 Last night, while many Oscar viewers were raving over Ellen Degeneres' viral selfie with several A-list actors, a viral movement was not-so-quietly taking over Twitter: the #NotYourTonto hashtag. 
Remember the 2013 movie Lone Ranger? That box office flop in which Johnny Depp portrayed the Comanche Tonto with a stuffed crow on his head and over-the-top facial paint? Although it may have bombed with critics, last month Lone Ranger was nominated for an Oscar in Makeup and Hairstyling, prompting outrage among members of the Native American community who protested that Depp's outfits and makeup were in fact racist. These advocates denounced the Academy Awards for honoring a movie that took part in "redface," the act of dressing up in a costume and pretending to be from a tribe like the Comanche.
Indigenous activist and writer Jacqueline Keeler came up with hashtag #NotYourTonto to respond to the nomination. Keeler, who had also organized the hashtag #NotYourMascot to protest the Washington Redskins during the Super Bowl, teamed up with fellow activist Ethan Keller to organize a Facebook event and Twitterstorm starting the night of March 2. The National Congress of American Indians and EONM (Eradicating Offensive Native Mascotry) also signed on to help promote the movement.
It seemed to work. As the Oscars got underway on Sunday, the hashtag began to really take off.
Soon, it was trending all over the U.S.
In fact, Keeler noted that by the end of the night 1.8 million people were involved.
In an interview with PolicyMic, Keeler explained why she felt the Lone Ranger nomination was so unacceptable.
"I heard about the nomination, and as a former documentary producer and a film minor at Dartmouth College, I was outraged," Keeler wrote. "I'd also written about the film for Indian Country Today in July and the issue of Depp's portrayal of redface had been on my mind for some time."
She pointed out how many sports fans often "play Indian" by dressing up in headdresses and painting their faces. These instances of redface show how behind the U.S. is in addressing Native Americans' feelings about their cultures being misconstrued and misrepresented, she points out.
Image Credit: ICTM
Keeler said she considers redface to be on the same level as blackface and yellowface.
"I hoped to make it clear to the Academy that it is not okay to reward redface in films," Keeler said. "Just like they'd never nominate Breakfast at Tiffany's (Mickey Rooney as Mr. Yunioshi) for yellowface in this day and age."
She also credited the WHAT TRIBE Project for creating the artwork for #NotYourTonto.
Image Credit: WHAT TRIBE Project/Facebook
To this day, many non-Native Americans "dress up" in Native American costumes for Halloween, theme parties and for sports games without thinking twice. So when Lone Ranger came out, Depp's portrayal of Tonto struck a nerve with many people in the Native American community who said it was just another Hollywood Native American stereotype.
However, it's worth noting that not everyone was so upset by the portrayal. Comanche Nation Chairman Wallace Coffey was an adviser on the film and told TIME he thought it was "a very realistic portrayal of a Native American" — despite the fact that Tonto is allegedly based off of a non-Native American's painting of a Native American — who based it off his imagination. 
Correction (3/14/13): An earlier version of this story listed Ethan Keller as indigenous. The article has been corrected to reflect that he doesn't identify as indigenous.