This Movie Just Became the First Film Directed by a Woman to Make $1 Billion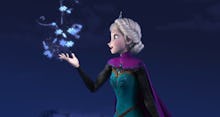 On Sunday, Disney's Frozen made history. Not only did it win the Academy Award for Best Animated Feature, but it also reached $1 billion in worldwide ticket sales, making it the first film directed by a woman ever to do so. (Frozen is the second animated movie in history to garner that much cash, the first being Toy Story.)
Hell. Yes.
Image Credit: Tumblr
The sure-to-be-classic, which is also one of the most progressive Disney movies ever made, was co-directed by Jennifer Lee and Chris Buck. Its success, once again, proves the box office viability of movies that center around and are made by women. As Cate Blanchett wonderfully lamented in her Oscar speech on Sunday, "To those of us in the industry still foolishly clinging to the idea that films with women at the center are 'niche' experiences. They are not. Audiences want to see them, and in fact they earn money. The world is round people!"
This is a big win for female directors, who have had a notoriously difficult time being recognized for their work in the industry. The unfairness with which the Academy treats women has been well-documented. A measly three women had been nominated for their directorial work before Kathryn Bigelow made Oscar history by winning for The Hurt Locker in 2009.
According to Variety, in 2011 just 5% of the top-grossing 250 films were directed by women. In 2012 that number went down to 9%, and in 2013 only two of the top-grossing 100 movies of the year — Frozen and Carrie — were directed by women. Even in the pop cultural imagination, male figures like James Cameron, Steven Spielberg and Michael Bay are usually seen as the magical force behind big budget behemoths. And the infamous machismo of Walt Disney still casts a wide shadow in the animation world.  
Directors Jennifer Lee and Chris Buck. Image Credit: AP
The oddity of being a female director was remarked upon so much that Lee took to the Los Angeles Times to write about her experience: "[T]he question I've been asked most is: 'What is the hardest part about being a female director?'... I confess that I'm ready, so very ready to get back to the freedom of the story room — tough notes and all, where it's not about me being a 'female' director. It's not about me being only 5-foot-3. In the story room, my boobs fit just fine, because in the story room, it's only the size of my imagination that matters."
Lee's enormous success with Frozen will hopefully be a game-changer for massively talented female directors.